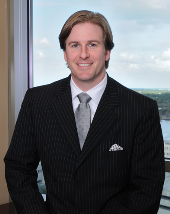 Every attorney hopes to distinguish himself at a young age and this is a nice affirmation that what I'm doing is noticed. But really, I just focus on the clients
(PRWEB) May 21, 2013
James D. Phillips' rise as a leading Florida DUI lawyer has once again been recognized nationally. National Trial Lawyers (NTL), a professional association, has placed him on its prestigious "40 Under 40" list for the state of Florida.
Phillips is one of the founding partners of Katz & Phillips, PA, one of the fastest growing criminal defense law firms in the state. Phillips came to the firm with a strong history of courtroom success over thousands of court cases. He focuses largely on DUI defense.
NTL was created to strengthen the legal profession. Its "40 Under 40" list exists to highlight young attorneys who exhibit leadership and superior talents in addition to a strong trial record. Nominees are peer-reviewed and final candidates are then chosen based on third party research.
"It's nice to be recognized in my peer group," Phillips said. "Every attorney hopes to distinguish himself at a young age and this is a nice affirmation that what I'm doing is noticed. But really, I just focus on the clients."
Katz & Phillips grown substantially in the past year, with five branch offices in four cities including some of the best Tampa DUI lawyers in the state.
"We believe in results," Phillips said. "We feel that by personalizing our service and truly listening to our clients, we bring back more successes for them. It looks like it's working."
About James Phillips:
James D. Phillips is an experienced Orlando DUI attorney and the co-founder of Katz & Phillips, PA. Mr. Phillips draws on extensive courtroom experience and his previous work as a prosecutor to give every client the strongest defense possible, focusing in particular on DUI defense. He can be contacted at:
Katz & Phillips, PA
509 W. Colonial Drive
Orlando, FL 32804
321-332-6864