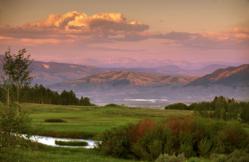 There's nothing like a Colorado dude ranch where the experiences and the discounts are bona fide!
Granby, CO (PRWEB) May 22, 2013
Grand County Dude Ranches invite dudes and dudettes to enjoy an unforgettable guest stay at one of the area's four all-inclusive dude ranches. Each estate offers its own variety of authentic Old West life with packages that include lodging, meals, activities and events.
Vacationers of today can follow in the footsteps of turn-of-the-century dudes: city-dwellers from the east who traveled west for ranch-style R&R. An American tradition that gained popularity in the 1920s, memories here are made to last amid the majestic beauty of the Colorado Rockies. Typical ranch activities include horseback riding, swimming, mountain biking, river rafting, hiking, fly fishing, western dancing, shooting, cowboy skills and more.
There's nothing like a Colorado dude ranch where the experiences and the discounts are bona fide! Visit each ranch's website for a full list of activities and more information on booking.
Bar Lazy J Ranch – The oldest continuously operating guest ranch in Colorado, Bar Lazy J offers visitors a friendly and laid-back experience. Packages include lodging in private log cabins, chef-prepared meals and snacks, and a multitude of indoor and outdoor activities. Guests won't want to miss having a go at cow pushing or casting into the property's Gold Medal trout fishing waters.
Seasonal Special: Families enjoy a 10 percent discount the weeks of June 2-9 and June 9-16. September is adults-only month and rates are discounted 10 percent.
C Lazy U Ranch – This ranch touts its "5-Spur Service" and commitment to personal attention. Lavishly remodeled cabins, gourmet, family-style meals and a deluxe, tented spa make C Lazy U the epitome of Western luxury. Activities such as tennis and yoga fill the recreation list alongside traditional ranch fun including shooting and horseback riding.
Seasonal Special: The short-stay special from May 31 to June 3 saves 25 percent and up after which week-long rates apply: $325 per adult, $150 per child (age 6-12) and $125 per child (age 3-5).
Drowsy Water Ranch – Winner of TripAdvisor's Travelers' Choice 2012 Award for the Best All-Inclusive Resort in the World, Drowsy Water is a crowd-pleaser, catering to guests of all ages. Cozy, western-decorated cabins and hearty meals will have lodgers relaxing into the natural, slow-paced rhythm of the country. Classic ranch recreation, in addition to plenty of group-based fun, invites the simplicity of the great outdoors into every vacation.
Seasonal Special: Families get10 percent off June 9-15 and August 25-31. Sept. 1-7 and Sept. 8-14 are adults-only weeks and carry a 15 percent discount.
Latigo Ranch – With satisfaction guaranteed, the Latigo Ranch presents a more intimate ranch encounter with modern log cabin accommodation limited to 35 guests. It's easy to make friends, as well as memories, at Latigo's cookouts and country dances. They also provide a variety of lessons on cow handling, including roping and cow-penning.
Seasonal Special: Week-long bookings earn a discount from June 2-22: $350 for an adult, $200 for a child (ages 6-13) and $125 for a buckaroo (ages 3-5).
For more information about Grand County's dude ranches and other destinations, activities, special events, visit http://www.visitgrandcounty.com and http://www.facebook.com/grandcountycolorado. Follow @grandcountyco on Twitter and http://www.pinterest.com/grandcountyco on Pinterest.
About Grand County, Colo. (http://www.visitgrandcounty.com)
Located 67 miles west of Denver, Grand County is home to wide-open spaces, breathtaking mountain scenery and authentic old-west towns. Outdoor recreational activities include golf, boating, fishing, biking, hiking, fishing, hunting, horseback riding, skiing, cross country skiing, snowmobiling, ice fishing, sleigh rides and tubing. The area features more than 600 miles of mapped and marked trails, one national park, two national forests, two wilderness areas, two national scenic byways, two major ski resorts, five world-class dude ranches and four mountain golf courses. Grand County's extensive water network includes Colorado's largest natural lake, 1,000 miles of streams, 1,000 acres of high-mountain lakes and 11,000 acres of reservoirs.