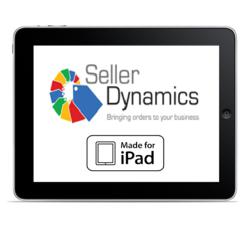 Whether you're travelling or at home, with an iPad at hand you can quickly login to manage inventory, price margins, and all marketplace activity.
Stirling, United Kindgom (PRWEB UK) 22 May 2013
Clients of marketplace management experts Seller Dynamics are now able to manage their online sales operation from an iPad. This latest Seller Dynamics upgrade comes after the recent Magento Platform integration and gives clients the opportunity to easily keep on top of their business when they're on the move.
With more than 50% of UK internet users able to access the web via a tablet device or smartphone, it was important for the Seller Dynamics team to take this into account when working on improving their marketplace management software. Steve Boland of Seller Dynamics was delighted that iPad users could now use Seller Dynamics to manage their online business and felt that this latest development is a huge step forward.
"Just like the Magento integration, this upgrade is aimed at making life easier for our clients. iPads are the future when it comes to portable hardware so it's great that our clients now have another way of keeping on top of their business at all times. Whether you're travelling, working away from the office or even relaxing at home, with an iPad at hand you can quickly login to manage inventory, price margins, and all marketplace activity."
Developing Seller Dynamics for iPad comes soon after adding a unique re-pricing tool on the PlayTrade marketplace. Whether it's dynamic pricing, inventory management or simply the ability to monitor all e-commerce activity from a single dashboard, Seller Dynamics continues to lead the way with their marketplace management solution as they look to encourage clients to expand their online offerings to both UK and international marketplaces.
---------- End ----------
For further information contact Seller Dynamics
at +44 (0)1786 430076
or email steve.boland(at)sellerdynamics(dot)com
Note for editors:
About Seller Dynamics: Seller Dynamics is dedicated to helping retailers maximise their sales and profits online, by utilising the power of marketplaces such as Amazon, eBay, Play.com, and Fnac.com. With Seller Dynamics, retailers can list their entire product portfolio on these marketplaces, reaching a global audience of billions, while simplifying their overall business management through Seller Dynamics' powerful inventory management and dynamic price management tools.
Seller Dynamics is a brand of Objective Associates Limited, a leading software and web development agency based in Stirling, Scotland. The company offers Seller Dynamics on a commission based model together with a modest set up fee. Formed in 2002 with a background in class-leading enterprise-grade software development, the company has significant expertise in the design and development of robust and scalable software systems utilising the Microsoft Platform and related technologies.