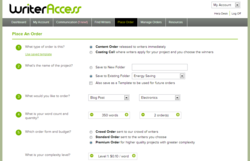 User experience is the defining point for any online software or service company
Boston, MA (PRWEB) May 23, 2013
WriterAccess, the Boston-based company that hosts a network of more than 7,000 professional writers, is revamping the look and feel of the client/agency portal with the launch of a new all-in-one order form and client dashboard. Clients in need of web content and marketing materials can now get their orders in and content out of the platform with ease. The new, intuitive user experience simplifies the content development process and gives clients access to new value-added features like alerts, updates, referrals, and more.
"User experience is the defining point for any online software or service company," notes Byron White, founder of WriterAccess. "That's why we went out and hired a UX company to help us out."
Clients ordering content via the WriterAccess platform previously had to navigate through three different order forms. Now, all the features of the Crowd, Standard, and Premium orders can be found on a single order form page. This allows clients to create projects and order content by specifying the word count, rate, and writer selection with ease of use. Users can sail through the new Project Brief Wizard to lay out editorial specifications—a quick form that asks important questions about format, style, and tone that will help ensure the quality of the content delivered.
In addition to the new form, clients will have a new account dashboard to help them navigate the real-time activity in their account. The nerve center provides instant access to things like: Alerts (orders in danger of auto-approving, pending topic ideas, unread messages, and Casting Call applicants); My Account (total account funds, active orders, and available funds); and Project Status Summary (orders that are Open, In Progress, Pending Approval, Completed or Deleted). Other new features include writer endorsements and reviews (similar to LinkedIn), WriterAccess Updates, and the Referral Program.
The new order form and client dashboard are the first of many improvements to launch in 2013. WriterAccess will be announcing the other content marketing applications having to do with images, content planning, and performance in the near future.
WriterAccess is an online marketplace connecting customers directly with expert writers. It's a Platform-as-a-Service developed by ideaLaunch, a leading provider of content marketing services and solutions. The company's mission is to streamline content creation with great writers and editors that all have the passion, expertise and experience needed to help grow a business organically—the content marketing way. Further information is available at http://www.WriterAccess.com or 617-227-8800.