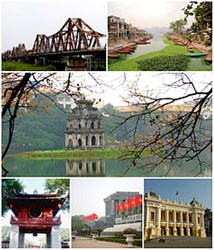 To book a tour or get more information, tourists can get access to the website of Vietsmile Travel as given above.
(PRWEB) May 22, 2013
Vietsmile Travel, the leading travel company in Vietnam, is making the effort to expand the network of domestic tours. Indeed, it has launched a promotion program entitled "Hot Summer", which provides cheap tours in Hanoi, Sapa, Ninh Binh, Ha Long, Ho Chi Minh City, Danang, Nha Trang, Phu Quoc, etc. This provides tourists a chance to get surprisingly attractive tours, ranging from 1-day packages to one-month packages. The discount for each tour can be up to 50%, depending on the time of booking. Besides, tourists can get a free Vietnam visa if they book tours, hotels, air tickets, or other services on the website.
At present, tours in Hanoi are drawing the attention of numerous customers since this capital city is one of the most interesting destinations in the country. Situated on the Red River bank, Hanoi itself means "the city among rivers". With more than 18 different lakes, it is also named as the city of enchanting lakes. Being the capital and the second largest city of Vietnam, Hanoi has long been the center of politics, trade, culture, and tourism. It is not only attractive to international tourists but also domestic ones from other areas. Once coming to Hanoi, tourists cannot miss the chance to visit Hoan Kiem Lake, also called Sword Lake. It is celebrated for the legend about the magic sword of Le Loi King. Now, it becomes a historical, cultural, and pleasant area for citizens and tourists. Nearby Hoan Kiem Lake is the Old Quarter, which owns the unique culture and ancient architecture of Hanoi people. Each street specializes in selling a particular product. Therefore, these products go to a series of streets in this area, such as Hang Khay, Hang Than, Hang Cot, Hang Bong, Hang Bai, Hang Dau, Hang Non, Hang Giay, etc. Many tourists love to wander around these streets to discover their unique characteristics. Dong Xuan Night Market, just 2 kilometers from Hoan Kiem Lake, is also an interesting highlight to travelers. The market runs along a 3-kilometer street selling clothes, goods, and specialties. Tourists once visiting Hanoi will certainly enjoy water puppetry show at Thang Long Water Puppet Theater.
Besides, such highlights as Ho Chi Minh Mausoleum, Presidential Palace, One-pillar Pagoda, Tran Quoc Pagoda, Quan Thanh Temple, Ngoc Son Temple, and Temple of Literature, etc. should be added to the list of destinations when tourists visit Hanoi.
Indeed, Hanoi is remarked as one of the most attractive destinations in Asia. It is well-known not only for its unique culture, peaceful landscape, traditional lifestyle but also for delicious foods. Hanoi is recognized as one of the world's top ten cities for foods in Sherman Travel. Pho, a kind of noodles mixed with special soup, puts a spell on tourists. In fact, it has a long history for traditional recipes of Hanoi people. Then, Pho is also known as one the world's top 5 street foods by Global Post. Apart from Pho, Hanoi also makes tourists impressed by its unique cuisine with a variety of delicious foods such as Bun Cha, Cha Ca, Banh Gio, Rolling rice cake, and so on.
Although renowned for traditional values, Hanoi is the second largest city in Vietnam and owns many interesting things of a modern city. Tourists can easily find luxurious hotels, well-equipped spas, crowded nightclubs, and busy bars here. It is noted that Hanoi is one of the ten cities for shopping in Asia.
Many tourists wish to visit Hanoi and experience such great value. However, they may consider the cost when booking a tour. With Vietsmile Travel, tourists can realize their dream without trouble since it offers surprisingly cheap tours this summer. To book a tour or get more information, tourists can get access to the website of Vietsmile Travel as given above.