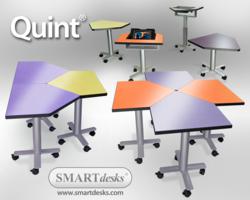 Quint's infinite possibilities for arranging collaboration groups is inspired by organic mosaic tile arrangement.
Baltimore, MD (PRWEB) May 22, 2013
SMARTdesks is honored to win the Platinum ADEX Award for design excellence for its innovative Quint Collaboration Conference Tables. In addition to the Quint's five-sided top design, it may be outfitted with the iPad flipIT to provide greater security for using iPads in a classroom setting. A SMARTdesks exclusive, the iPad flipIT classroom desk accessory also won a Platinum ADEX Award.
The inspiration for Quint's five-sided top was based on a study of mosaic tile arrangement. In contrast to forms with even numbered sides, the five-sided shape allows a different freedom in creating forms and shapes for group interaction. While mosaics appear homogenized from a distance, a close inspection reveals that close proximity is enough to bring about continuity in a group. The Quint desktop defines a personal space that can either fit tightly together for close interaction, or can spread apart slightly to increase personal space without completely disconnecting from the group. The loose-tight relationships are easy to facilitate, resulting in uniquely organic arrangements that defy description, yet make perfect sense for spontaneous arrangement.
The Quint tops are mounted to X-based pedestals with options for adjustable height and locking casters for added mobility. Fixed height bases are offered in standard 28.5-inch working height, with spring-pin adjustable height bases that allow positioning in one inch increments from 22 to 28 inches. When an iPad flipIT is installed, a six inch hat channel is applied for clearance, making the height range 28 to 34 inches. For even great height variance with easier adjustment, a ratchet version is offered with a 9.45 inch range in 0.78 inch increments. When an iPad flipIT is installed, the hat channel makes the height range 30 to 39.45 inches, or 24 to 33.45 inches without the hat channel. These options make Quint suitable for K-12, higher ed and corporate collaboration environments with people seated or standing.
SMARTdesks designs and manufactures innovative, custom computer conference tables and computer classroom furniture for iMac, PCs, laptops, iPads, all-in-ones and touch screens. Each product is made to order, nuanced for the technology, purpose and interior design choices for the space. SMARTdesks is the patent holder for flipIT® products and is the sole source for flipIT and factory integrated flipIT furniture products. Serving universities, corporations, government and military clients world-wide, SMARTdesks furniture is made in the USA using Certified GREEN manufacturing methods. For more information, contact smartdesks through the web site— http://www.smartdesks.com
ADEX stands for Awards for Design Excellence and is the largest and most prestigious awards program for product & project design in the A&D industry. Design Journal, the international trade publication for interior designers, architects and facility managers since 1988 is the proud sponsor of the ADEX Awards.