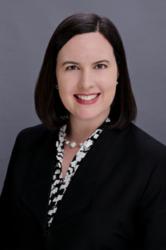 Having a CFA® charter on staff adds a sense of trust that we're committed to protecting our clients wealth and that we'll do so with the highest level of integrity. - Brooks Slaughter, President and CEO
Austin, TX (PRWEB) May 22, 2013
After several challenging years of study and testing, Darby Armont, Vice President of Client Services at Richard P. Slaughter Associates, Inc., was awarded her Chartered Financial Analyst® designation from the CFA Institute earlier this spring.
The CFA® designation gives Armont a very rare combination of graduate-level certifications to go along with Master of Business Administration (MBA) and Certified Financial Planner™.
"It's difficult to find official statistics, but it appears that of the people who begin the CFA® course, less than 20 percent complete the program and are awarded the charter. And only about two percent of CFP® holders are also CFA® charterholders," said Armont.
And this combination is even more unique among women, as only 19 percent of all CFA® holders are women according to the CFA Institute.
The CFA® charter is a globally recognized, graduate-level investment credential that emphasizes a commitment to professional ethics and expertise in global markets and accounting practices for careers within the investment profession. For Richard P. Slaughter Associates, added credibility of having a Chartered Financial Analyst® on staff is very valuable.
"The CFA® program places a strong emphasis on ethics, which is so important in investment management," said President and CEO, Brooks Slaughter. "Many people believe the decks are stacked against them and that there's no value in hiring an investment management team. To those individuals, having a CFA® charter on staff adds a sense of trust that we're committed to protecting our clients wealth and that we'll do so with the highest level of integrity — a cornerstone of our business model from the very beginning."
To earn the CFA® charter, one must have a minimum of four years of qualifying investment work experience, complete the three-level CFA program and become a member of the CFA Institute pledging annually to adhere to the Institute's Code of Ethics and Standards of Professional Conduct.
About Richard P. Slaughter Associates, Inc.
Richard P. Slaughter Associates is a leading Austin-based wealth management and financial planning firm. Slaughter Associates delivers a comprehensive financial approach to its clients by providing financial planning, asset management, ongoing education and a lifespan relationship for a personal and individualized service. This approach is unique in a financial industry that is often segmented and outsourced. By committing to each of these important components, Slaughter Associates charts a path to reach the individual financial goals of its clients.
Founded in 1991 in Austin, Texas by Richard P. Slaughter, Slaughter Associates is one of the original fee-based firms in the nation. In 2010, the firm launched a new division to embrace the business community with Slaughter Associates 401(k). Texas Monthly has recognized Slaughter Associates for its customer service as a FIVE STAR Wealth Manager for three consecutive years with individual honors for each member of the executive team. Slaughter Associates is a NABCAP Premier Advisor, recognized for its commitment to maintaining top business standards, first-class financial management capabilities and dedication to preserving transparency in the financial services industry. The firm is also a distinguished Best Places to Work, honored by the Austin Business Journal for eight consecutive years.