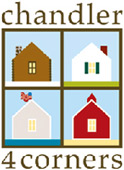 We get rave reviews every day for things as seemingly simple as great customer service... but we know there are things we can still improve upon
Manchester, VT (PRWEB) May 24, 2013
In a recent newsletter to retail partners, Chandler 4 Corners asks shop owners to "take 2 minutes to tell us how we can help." As a manufacturer and distributor of high-end, hooked wool throw pillows, rugs, and accent furniture, Chandler 4 Corners feels it is a priority to hear from those on the "front line" of customer service.
The survey is quick, indeed (only 9 multiple choice questions) and asks questions that, in the words of company president Henry Chandler, "will guide us in creating tools for our retail partners to help them do a better job helping customers understand and appreciate the Chandler brand in their stores." He pointed out that the Chandler name has had a strong identification with designer Laura Megroz, the company's lead designer for more than a decade. While agreeing that that is a wonderful thing, he wants to underscore that the Chandler 4 Corners brand adds up to much more than one designer: "We get rave reviews every day for things as seemingly simple as great customer service... you wouldn't think such a basic aspect of business could bring in so many kudos. And quality—people love the quality of our products... but we know there are things we can still improve upon, hence the survey."
All Chandler 4 Corners wholesale customers are urged to log-in and complete the survey before the end of May. If you are not a C4C wholesale customer, visit the website to learn more about how this established brand might work in your store.
Chandler 4 Corners has been offering pillows, rugs and household accents since 1995. Based in Manchester Center, VT the company sells to retail shops, leading catalogs, and individuals across the country. Chandler 4 Corners hand-hooked products are made of pure wool in natural colorways that suit any home decor.