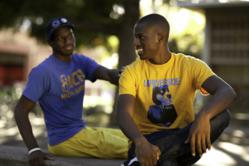 (PRWEB) May 21, 2013
The University of California, Riverside is among six institutions hailed in a national study by the New American Foundation as a "Next Generation University" for success in enhancing student outcomes and maintaining robust research profiles despite economic pressures.
Chosen for inclusion based on a statistical analysis of student outcomes, research productivity, and enrollment trends from the foundation, were: Arizona State University, Georgia State University, The University at Buffalo [SUNY], University of Texas at Arlington, University of Central Florida, and UC Riverside.
The study findings were revealed at the New America Foundation headquarters on Tuesday, May 21, during a daylong session that included panel discussions with higher education leaders.
"The current environment creates extreme pressures in higher education, and we want to hold up as examples universities that are embracing business efficiencies and creating clear and accelerated pathways for students," said Jamie Merisotis, President and CEO, Lumina Foundation, one of the funders of the project.
According to Jeff Selingo, editor-at-large for the Chronicle of Higher Education, the project is meant to provide "a new playbook" for other public universities to consider, and provides information that can be used by policy-makers at the state and federal levels in discussion about the re-authorization of the Higher Education Act.
UC Riverside's Interim Chancellor, Jane Close Conoley, was scheduled to speak on two panels during the event, one on the future of higher education; another about strategies for student success.
"Our faculty and staff own this," Conoley said. "They are inspired by our first generation students."
Specific campus programs that are working for students at UC Riverside include first-year learning communities, specific monitoring and academic support for students who are in danger of failing, and partnerships with the K-12 system and community colleges that create a pipeline for student success.
The report shows that UCR has nearly twice as many low income students as other American research universities. "Academic excellence and access are hallmarks of our strategic plan," said Dallas Rabenstein, UCR's provost. "Today's report is very heartening because it demonstrates, along other recent rankings of scientific impact, that UC Riverside is a national leader with respect to both academic excellence and access."