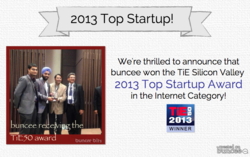 It's extremely rewarding to be recognized for our efforts in providing educators and businesses with web based and mobile solutions that fulfill their content creation needs.
Riverhead, NY (PRWEB) May 22, 2013
buncee®, an easy-to-use digital canvas for creating and sharing custom online content, is honored to be selected as TiE50 2013 Internet Category Winner by TiE Silicon Valley, the organizer of TiEcon 2013 - the world's largest conference for entrepreneurs.
On Friday May 17th, buncee's CTO Bonpreet Sethi presented to a panel of expert judges how buncee.com makes it easy for educators, businesses, and creative users to design stunning and interactive digital content to use in their teaching, marketing, online messaging and social networking efforts.
buncee's CEO Marie Arturi remarked, "We are deeply honored to be chosen as a TiE50 Winner and to be recognized amongst this notable group of enterprising startups." She added, "We've worked very closely with educators and small businesses and see their increasing demand for easy-to-use and effective digital content creation platforms, and we know that buncee is uniquely positioned to meet this demand. It's extremely rewarding to be recognized for our efforts in providing these industries with web based and mobile solutions that fulfill their needs."
The full length winner's interview with CTO Sethi will be available for viewing on the buncee blog in the next few weeks.
Speaking to a global audience at the awards ceremony during TiEcon 2013, the conference Chairman and President of TiE Silicon Valley, Mr. Venkatesh Shukla said that "the TiE50 program screened 1,142 companies from 24 countries and 50 best-of-breed companies were announced winners."
"Over the past four years, the TiE50 program gained global acclaim attracting startups from all over the world. TiE50 as a brand has gained much recognition amongst the VC and Angel communities – particularly in the Silicon Valley. About 110 finalists and winners had successful exits," said Program Chair Ram K. Reddy.
About buncee.com
buncee® simplifies content creation with an interactive digital canvas and easy-to-use tools that give users a whole new way of creating and sharing customized online and mobile content, whether creating digital educational lesson plans or student presentations, promoting a product or business story, or personalizing e-greetings, invitations and more. By leveraging the capabilities of online tools and iOS devices, buncee makes it easy for even the most 'nontechnical' individuals to create engaging and interactive multi-media creations that can be shared publicly or privately. For more information, visit: http://www.buncee.com.
About TiE50
TiE50 is TiE Silicon Valley's premier annual awards program keenly contested by thousands of technology startups worldwide. Awards are announced at TiEcon, the world's largest conference for entrepreneurs. TiE is a global, not-for-profit network of entrepreneurs and professionals dedicated to the advancement of entrepreneurship. TiE provides a platform for mentoring, networking and education for technology entrepreneurs worldwide. Our global network of 54 chapters located in most major North American, Asian and European countries and cities with more than 14,000 members across 13 countries.
About TiEcon
TiEcon is the world's largest conference for entrepreneurs and intrapreneurs with loyal participation from top technology companies, leading venture capital firms, and global service providers. TiEcon 2013 attracted 3,700+ attendees from across the world -- including CEOs of established companies to first-time entrepreneurs creating new companies, to leading investment professionals and corporate executives. TiEcon was listed by Worth Magazine in their September 2011 issue to be among the 10 Best Conferences for Ideas and Entrepreneurship along with TED and the World Economic Forum. For more information on TiEcon, visit http://www.tiecon.org/.