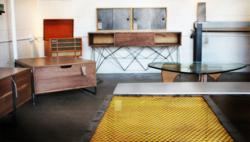 The Work Shop Pop Up is basically the coolest bunch of squatters ever. ~ Lee Breslouer - thrillist.com
Denver, Colorado (PRWEB) May 22, 2013
38th avenue just got a lot better with the addition of WORKSHOP a "Pop-Up" at the corner of 38th Avenue and Meade Street.  This creative retail spot boasts the best coffee in the neighborhood as well as an impressive display of talent in the form of high-end handmade furniture, art and jewelry.
The Pop-Up part of this retail experience is that it will only be in its current location, a reclaimed mechanic station, for the next 6 months before demolition.  The members of WORKSHOP a "Pop-Up" are hoping that business thrives and that a permanent location is to follow. Whether hanging out, drinking a hot cup of black black coffee, or perusing the handmade goods, WORKSHOP a "Pop-Up" provides something for everyone in a casual and refined atmosphere.
About WORKSHOP - (Pioneer of pop up)
WORKSHOP a "Pop-Up" is a store that was born from a construction business.  Many of the furniture pieces were created out of the necessity to stage its houses.  Positive feedback and popular demand encouraged the creation of the retail location. Aside from being closely tied to staging houses that it had built, the furniture that WORKSHOP creates is inspired by the construction materials found in all of the houses. Steel I-beams, concrete foundations, and wood framing got a face lift as we compressed these essential materials into small scale furniture pieces, creating a solid and industrial feeling at your fingertips rather than just inside your walls, as well as a touch of mid century influences. WORKSHOP is the culmination of years of experience and expertise in the field of design build. The WORKSHOP team is a wild bunch of people working together to design and build masterpieces one step at a time from high end residential homes to concrete lamps and planters.
Collaborating Artists:
-Black Black Coffee is one of a kind pour over coffee. Coffee connoisseurs are impressed and relieved to have this wonderful shop in the area, and skeptics are surprised to find that Josh Mcnealy has perfected the cup of coffee where neither sugar or cream are required.
-Mildred and Bernice jewelry has become one of the more prominent local handmade jewelry makers in Colorado and it is for a good reason. The jewelry is impeccably designed and so well made that these pieces will stand the test of time in fashion and durability.
-Zach Johnson's two year conquest of "Disappointed People Holding on to Guard Rails," (20 some painting of New York city in oil on canvas) line the walls of the shop. This series creates both a spectator and personal feeling when looking at the series as a whole and what's more impressive is when each painting is seen up close.
****For more information or different photos please contact owner Brad Weiman
http://www.workshopdenver.com
303-949-5945
brad(at)workshopdenver(dot)com
Please feel free to use any and all photos from our website.