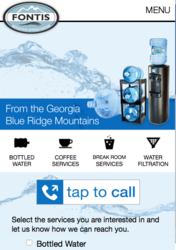 Fontis wanted to create a unique experience for different kinds of web users.
Marietta, GA (PRWEB) May 22, 2013
As the team at Fontis Water gears up to celebrate its ten year anniversary, it now has a new means of bringing its Georgia mountain spring water and accessories to its clients in the digital space; a fully custom mobile website.
Fontis founder and President Jamie Carroll has dedicated himself to providing only the highest quality products and services since starting the company in June 2003. He surrounded himself with a like-minded team, and together they have made a name for themselves as one of Georgia's premiere water distributers. Now, as the team looks to expand its loyal customer base, they recognized the importance of connecting with their audience where more digital interactions are occurring everyday, the mobile web.
In order to create a mobile site that matched the company's philosophy of high-quality and impeccable customer service, Fontis reached out to one of the fastest growing digital agencies in the business, FiddleFly. Having begun as an exclusively mobile-based agency and now expanding to all other digital platforms, Carroll and the Fontis team placed its trust in FiddleFly's hands and together were able to create a mobile experience that is clean, intuitive, and extremely engaging.
Much like its unique product line that ranges from bottled water to full-service break room hardware, Fontis understood that different web users need to be treated uniquely. As such, the FiddleFly team created a site that is tailored to an action-driven user, bringing elements such as contact portals and product selections to the forefront. While Fontis's desktop experience is heavily tailored towards learning about the Fontis story and building a deeper relationship, the mobile site first gives the on-the-go user the opportunity to connect and purchase, then offers plenty of supplementary content that tells a story and promotes deeper engagement.
To check out the Fontis site, simply visit fontiswater.com from any smartphone, and if you are looking for a custom mobile site or a mobile partner for your agency, you can contact FiddleFly at (410) 309-7422.