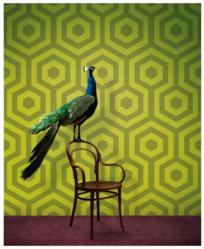 Chattanooga,TN (PRWEB) May 23, 2013
Summer is around the corner and the latest trend in home design is sizzling wallpaper patterns by Barcelona, Spain's Tres Tintas. Now made available online only through exclusive vendor http://www.WallpaperWholesaler.com. Tres Tintas offers unique contemporary designs that are bold, daring, attractive, and quite different from the offerings of other competitors on the market. Tres Tintas Barcelona attributes its popular designs to the fact they allow their artists complete creative freedom of expression.
"We are innovative but not iconoclastic," states Jaime Bermejo, Co-Founder of Tres Tintas Barcelona. "We hire authentic and experienced artists that know how to interpret with a creative manner the basic ideas that we give them... we encourage young, carefree and rather innovative spirits; and that's why we give our collaborators complete freedom of expression."
Tres Tintas Barcelona caters to the demand for something truly new, completely fresh, and innovative in the avant-garde world of contemporary wallpaper. What they deliver is astounding designs that are creating quite the buzz of admiration in the design communities. Tres Tintas success is also largely due to their unique vision, community culture, and a sincere dedication to environmental values.
All Tres Tintas wallpapers are made with a special water ink. This ink is non-toxic, allowing the wallpaper to be recycled later on; for this reason, the company urges its customers to use only recycle friendly adhesives when installing the wallpaper. In addition, the wallpaper itself is made from sustained forests, meaning, the forest is managed so that as trees are used for their wood, new seedlings are planted to replace them. Tres Tintas Barcelona has earned the "Finland Clean Woods" certificate as part of their environmentally responsible efforts.
"We are proud to now be the exclusive online retailer for Tres Tintas," says the Wallpaper Wholesaler CEO. "If people want unique contemporary wallpaper... this is IT." WallpaperWholesaler.com features nine books full of the most popular patterns from Tres Tintas Barcelona's collections including: 9 Selvas De Mariscal, All City Papers, Bodoni Collection, Heritage Collection, Hit Collection, Missiva, Nostalgie, Sophie, and Wall a Porter.
As part of introductory pricing, Wallpaper Wholesaler is offering 20% off all Tres Tintas Barcelona wallpapers.