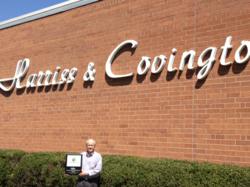 (PRWEB) May 22, 2013
Harriss & Covington recently completed a project to upgrade their existing lighting systems to reduce electricity costs and improve lighting quality in the knitting department. At the same time, their reduced electricity usage has resulted in less greenhouse gas emissions associated with electricity production.
Southpoint Solutions worked with Harriss & Covington to develop and implement this project utilizing the patented technology of Orion Energy Systems. The existing lighting system, which consisted of over 1350 inefficient T12 and high-intensity discharge (HID) light fixtures, was replaced with Orion's high-intensity fluorescent (HIF) technology.
As a result of the project, Harriss & Covington expect to cut its light-related electricity usage, and the associated costs, by almost 61 percent. An added benefit is that lower electricity usage means less fossil fuel emissions associated with electricity production. By completing this project, Harriss & Covington has indirectly reduced the amount of air pollution by 207 tons of carbon dioxide which has an equivalent impact of saving 25,751 gallons of gasoline annually or planting 57 acres of trees.
Harriss & Covington was looking to reduce maintenance on their current lighting, save energy and take advantage of the available rebate provided by Electri Cities. They were able to accomplish this and more with the recent lighting project provided by Southpoint Solutions. "This project exceeded our expectations and increased light levels without increasing energy consumption," says Danny McNair, VP of Manufacturing of Harriss & Covington.
"We appreciated the flexibility Southpoint Solutions offered in their schedule for installing our new lighting. They worked around our manufacturing schedule and were able to work weekends so we didn't have to interrupt manufacturing/distribution," states Danny McNair.
Harriss & Covington Hosiery Mills is a vertical manufacturer operating in a 140,000 square foot manufacturing facility and a 55,000 square foot distribution facility. Their in-house capabilities are knitting, dyeing, bleaching, boarding, embroidery, packaging, shipping and distribution. Harriss & Covington has always had a commitment to embrace new technology and they are constantly looking for advancements in technology that can enhance their business and increase customer satisfaction. For more information, visit http://www.harrissandcov.com.
Southpoint Solutions, LLC. is an energy services company whose mission is to help commercial and industrial companies reduce energy costs and achieve environmental objectives by developing and implementing turnkey energy efficiency projects consisting primarily of high-performance, energy-efficient lighting platforms, intelligent wireless control systems and direct renewable solar technology. For more information, visit http://www.SouthpointSolutions.com.