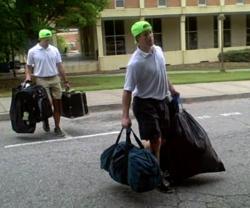 Moms stress (83%) and spend (about $1400) on items and moving costs for their college-bound children.
Pompano Beach, FL (PRWEB) May 22, 2013
As 3.1 million high school graduation caps fly through the air over the next few weeks, 51% of parents of college-bound students say they start shopping immediately after graduation and throughout the summer. After shelling out money for graduation gifts and parties, these tapped out parents spend an average of an additional $900 on necessities for dorms, apartments or student housing and another $500 in related moving costs. Buying these items, coupled with the task of physically moving them to their child's new residence, is usually costly and stressful.
In a recent survey by Campus Bellhops and BSM Media:

The average cost of a move ranges from $500 - $600, not including parent's time off from work (an average of two days)
College students will move an average of 6 times over the course of their coed careers, in a ritual Campus Bellhops calls "the apartment hop"
Students will pack an average of 12-15 boxes with everything from shower caddies to childhood items
Almost 83% of moms say they feel stressed about the college move
27% of moms say the stress kicked in at high school graduation, 40% at the arrival of the acceptance letter
Over 52% of moms point to carrying and moving large boxes as the one task they would gladly turn over to someone else
Taking the task of moving off of parents' to-do lists is Campus Bellhops, a revolutionary moving company started by Cameron Doody and Stephen Vlahos at Auburn University in 2010. Now in 50 college towns across the U.S., two students at the same college or university will move everything, from boxes to bedding and fridges to futons in and out of dorms, apartments and storage facilities.
"There are over 2,500 Campus Bellhops ready to get the jobs done," Doody says, "And, we thrive on excellent customer service, fast moves and a reasonable price, so parents don't have to worry about much of anything except how to spend time with their son or daughter."
Parents who have moved a student to college agree, with 59% of moms in the survey wishing they had spent more quality time with their son or daughter, rather than loading and unloading boxes. "The entire moving process with Campus Bellhops took no more than an hour," says Laura Motsett, mom to a freshman at the University of Central Florida. "While other parents were hauling boxes up and down stairs, our move was finished quickly and we were able to enjoy the rest of the day together."
Additional survey results and interview opportunities are available. Email mdonnellan(at)bsmmedia(dot)com. Find Campus Bellhops on Facebook, Twitter, Pinterest and YouTube at /campusbellhops.
About Campus Bellhops
What started in 2010 as a business idea with two college friends hoping to provide moving services to 25 students on one campus has mushroomed into a 2,500-member team in 50 college towns across the U.S. Founders Cameron Doody and Stephen Vlahos recruit and train college students as Campus Bellhops (http://campusbellhops.com) to provide moving services in and out of dorms, apartments and storage facilities at a reasonable price.
About BSM Media
BSM Media (http://bsmmedia.com) is an internationally recognized full-service marketing and media firm that specializes in marketing to moms. Our unique combination of market knowledge and results oriented approach allows us to help companies reach their goals and beyond. CEO Maria Bailey speaks to millions of moms each month through Mom Talk Radio, MomTV, several books and social media.
###
Sources:
BSM Media fielded two surveys for Campus Bellhops in April, 2013 and May, 2013. Responses totaled 650.
huffingtonpost.com/2013/01/22/graduation-rate-record-high-school-students_n_2522128.html
blogs.wsj.com/economics/2013/04/17/smaller-share-of-high-school-grads-going-to-college
http://www.nrf.com/modules.php?name=News&op=viewlive&sp_id=1405
Mr Youth Class of 2015 Research Report