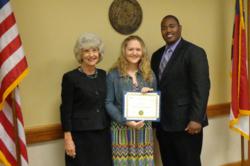 Goldsboro, N.C. (PRWEB) May 21, 2013
Haley Ginn of Goldsboro was recently presented with the Next Step Scholarship from Crumley Roberts. The Next Step Scholarship is awarded to community college students planning to transfer to an accredited four-year college or university.
Ginn was selected as a scholarship recipient based on her essay response to the issue of distracted driving, particularly in young drivers, plaguing our nation. She proposed that, using GPS technology, cell phones should be programmed so that text messaging and data services are disabled when traveling at speeds higher the 5mph. She also encouraged further legislation and education stating, "The staggering statistics of distracted drivers will never be reduced voluntarily."
Ginn was one of seven students to receive scholarships from Crumley Roberts this spring. To select the scholarship recipients, essays were judged by an independent and diverse panel of accomplished professionals and community leaders. Only six scholarships were originally planned; however, due to the number of exemplary applicants, Crumley Roberts decided to award an additional scholarship.
Ginn is a graduate of Wayne Early/Middle College High School, located on the campus of Wayne Community College. Through this program, she was able to complete her high school graduation requirements and earn a two-year degree simultaneously. Ginn will attend Meredith College in the fall, where she plans to pursue a degree in middle school math education. She was presented with her scholarship by Jason Knight, Community Involvement Specialist at Crumley Roberts.
"Our scholarship programs are an investment in the future," said Chris Roberts, President and CEO of Crumley Roberts. "An investment not only in the lives of the recipients, but also in our communities. We believe these students are the leaders of tomorrow and we are proud to encourage their continued growth and success."
Crumley Roberts is committed to helping students follow their educational goals through its scholarship programs. To date, the firm has awarded $175,000 in scholarships and technology to college-bound students.
Founded in 1989, Crumley Roberts, LLP, represents individuals in the areas of personal injury, drug injury, product liability, workers' compensation, and Social Security disability. The firm operates 14 offices in North Carolina and South Carolina. To learn more about the firm and its community relations activities, visit CrumleyRoberts.com.