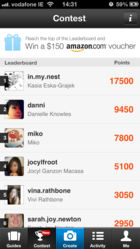 We are really excited to award our most active and creative members, as they are who make up the community of Guidecentral. - Gaston Irigoyen, CEO and Co-Founder of Guidecentral
(PRWEB) May 22, 2013
Guidecentral, a fun and visual app to create, discover and share how-to guides and DIY projects, launched a new contest feature, allowing the most creative users to win Amazon Gift Cards every month. The application helps makers feature their DIY projects in the mobile space. With the push for mobile becoming ever stronger, users can now easily and efficiently showcase their projects to a global and mobile community.
The company, which launched last October, seeks to encourage users, who are called "Guidesters," to create and share their guides with the community. The users in turn are awarded points for each DIY guide created, shared, liked, etc. At the beginning of each month, all users' points are set to zero (0). At the end of each month, the user with the most points is awarded a $150 Amazon Gift Card from Guidecentral. For more information on the contest, see the contest FAQs.
"We are really excited to award our most active and creative members," said Gaston Irigoyen, CEO and Co-Founder of Guidecentral and former YouTube employee, "as they are who make up the community of Guidecentral." The company, through this contest, seeks to reward the best, most creative and active members of the community.
Guidecentral is an app that allows users to upload DIY guides on any topic that interests them; the most popular topics are crafts, home decor and improvement, food recipes, and health and beauty tips.
Currently compatible with all iOS devices, the company recently launched a new website and has future plans to make the application accessible to other platforms. The application has users sign in through Facebook to create guides, though anyone can download the app and browse guides for free.
About Guidecentral
The company's founders formerly worked at Google, YouTube, and United States Department of Energy. The company is part of Dogpatch Labs by Polaris Ventures and has tens of thousands of active users around the world. Guidecentral is available for free on the App Store.