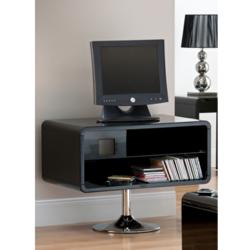 (PRWEB UK) 28 May 2013
FurnitureInFashion has just released the beautifully-crafted Toscana black high gloss TV stand. It is a great addition to an already expansive collection of TV stands offered by the company. Featuring classy high gloss finish with stainless steel base, Toscana black TV stand is the latest functional and stylish piece offered by FurnitureInFashion. Since 2008, FurnitureInFashion has been building authentic contemporary furniture rooted in innovative designs. Today, they attract furniture lovers and visitors from throughout the region who are search for quality home furnishing.
Sales representative of FurnitureInFashion said, "TV stands and cabinets offered by FurnitureInFashion are built after years and years of experience. The craftsmen and designers at FurnitureInFashion have worked over the years on contemporary and modern design lines for modern homes along with offering immense functionality."
Toscana black high gloss TV unit is a sturdy unit with an attractive and classy high gloss finish with stainless steel base. This beautiful TV stand not only offers space to display TV but is also offers compartment for storage. It has a middle shelf for storing books, magazines, DVD, video unit and other essential items in the living room. This TV stand has elegant design and curved shape to provide innovative addition to any modern living room. With the width of 80cm, depth of 50cm and height of 60cm, Toscana black high gloss TV unit is less floor consuming and can easily be incorporated in a small living room as well.
Toscana black high gloss TV unit has been designed to hold screens measuring anywhere between 27" and 55", weighing under 77 lbs. the framework of this TV stand has been manufactured with sturdy material in order to provide much wanted stability. The CEO and Managing Director of FurnitureInFashion said, "One of the other great things about this stand is its stability. The entire display weighs around 82 lbs which helps to keep it upright and secure when being used in busy areas like trade show or a hotel lobby. This TV stand can be moved around easily."
He further added, "The beauty of this TV stand is in how many ways it can be used. Businesses and stores have the option of using this TV stand as well due to its fantastic design. It has been designed very elegantly to increase the glory of any given space."
Homeowners looking to invest in a furnishing that will last for years will appreciate Toscana high gloss black TV stand. The round design of the middle shelf and stainless steel base lend a touch of elegance. Toscana high gloss TV stand is available at affordable price. FurnitureInFashion offers free home delivery service for residents of the UK. As the company holds above 90% stock at all times, the customers can have access to any furniture item at almost any time. The company offers fantastic customer service as well and customers can make phone enquiries at any time.
To have a look at affordable TV stands online and to place a pre-stock order, please visit the company website today at http://www.furnitureinfashion.net. The range of affordable TV stands online at the website is huge, delivery is fast, savings are massive and the quality is guaranteed.
About FurnitureInFashion
FurnitureInFashion is a UK based online retail business. It supplies furniture items from its German based warehouse and has a showroom in Bolton, UK. The company provides everything from umbrella stand, wall art and room dividers to bedroom, bar stools and computer tables. FurnitureInFashion offers excellent free delivery within UK and has a fantastic customer service as well. For further information and details about the sale, please visit http://www.furnitureinfashion.net