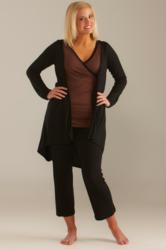 West Des Moines, IA (PRWEB) May 22, 2013
Bliss Baby & Maternity is proud and excited to announce the addition of Lady Lait, a maternity and nursing luxury apparel line of clothing.
The Lady Lait clothing line features luxurious fabrics, striking pieces, beautiful colors, and all the needs of a new mother perfectly merged to form a collection like none other. Inspired by the comfort of our favorite pajamas and the elegance of our most fabulous little black dress, these exquisite maternity and nursing separates create a new level of style very deserving, with looks sure to be loved by all. Classic, unique designs simplify and revolutionize wardrobe options for nursing mothers. Five versatile pieces create over thirty possible combinations ideal for a spectacular look anytime. Slip into versatile maternity and nursing fashion from Lady Lait and enjoy the miracle of being a new mother.
Lait (pronounced "lay") is the French word for milk. Please contact a local bra fitting specialist to ensure you have a suitable, supportive nursing bra to serve as a proper foundation to all of our garments. Because this collection is designed with perfected stretch technology, no nursing openings are found in any of our garments. Simply pull fabric aside for nursing access. With no unsightly nursing openings and unrivaled fashion design, Lady Lait is the premiere transitional maternity collection.
Because these items are transitional, they will go through pregnancy and beyond for after baby body and through nursing. They are very comfortable pieces of clothing that are great for lounging but look great when leaving the house as well. Clothing is made of Rayon and Lycra so they wash well, are comfortable, and will keep their shape.
These items are a must have for making a fashion statement during and after pregnancy. Please visit http://www.blissbabyandmaternity.com to browse our selection of Lady Lait pieces. Now through the end May, visit and receive a 10% discount by entering MAY10 at checkout.