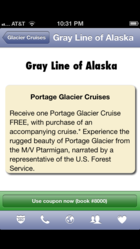 Instead of tearing out coupons from the print edition, the TourSaver app allows you to press a "Use Now" button when a tour vendor asks you for a coupon.
Anchorage, AK (PRWEB) May 22, 2013
For the first time, Alaska travelers can download $22,000 in 2-for-1 travel coupons right to their smartphone. Fishing, cruises, flightseeing and adventures are included in the Alaska TourSaver's 2-for-1 smartphone app for iPhone and Android.
Purchase the app for $99.99 at the iTunes store or Google Play, then use the 2-for-1 coupons to save hundreds of dollars on awesome trips, including:
a. Flightseeing around Mt. McKinley, in Wrangell-St. Elias National Park and Misty Fjords National Monument.
b. Hotel accommodations in Fairbanks, Anchorage, Seward, Juneau, Ketchikan…and more
c. Tours in Denali National Park, Katmai National Park, Lake Clark National Park, Kenai Fjords National Park and Glacier Bay National Park.
d. Zipline tours in Juneau and Ketchikan.
e. Whale watching tours in Juneau and Seward.
f. Bear Watching tours from Juneau and Hoonah
g. Jetboat tours in Wrangell and Talkeetna
Plus many more: a total of more than 130 coupons worth more than $22,000 in 2-for-1 savings!
For 15 years, the Alaska TourSaver has published a traditional coupon book. That's still available--either at TourSaver.com or at all Carrs and Safeway stores throughout Alaska.
Now, though, the "app" is helpful for last-minute travelers--where standard shipping of the book isn't an option. International travelers are big winners as well, since shipping costs are prohibitive.
The Alaska TourSaver App is an electronic version of the Alaska TourSaver book. After purchasing the Alaska TourSaver App and downloading to a smartphone, travelers use it like the physical coupon book. Instead of tearing out coupons from the print edition, the TourSaver app provides a "Use Now" button when a tour vendor asks for a coupon.
Additionally, there is a locator function that shows what TourSaver coupons are available within the specific area of travel.
Just like the "book", with the app there are more than 130 2-for-1 deals for over $20,000 in travel savings .
Travelers from around the world have used the Alaska TourSaver. TourSaver has picked the best activities, based on 50 years' combined Alaska travel experience. And with the Alaska TourSaver, travelers can travel more and spend less!
iPhone users Alaska TourSaver® App Description