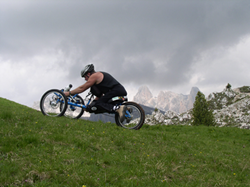 "The No Barriers Summit inspires a sense of adventure, innovation, community – and a belief in the power of the human spirit," says co-founder Erik Weihenmayer.
Fort Collins, CO (PRWEB) May 23, 2013
The No Barriers Summit, a four-day outdoor adventure and arts festival rooted in overcoming barriers for people facing any significant life challenges, will take place August 8-11, 2013, in Telluride, Colo. The biennial event, which reaches out to people of all ages with cognitive and physical disabilities and their families, anticipates a significant international attendance and will offer a variety of clinics accessible to all ability levels, including downhill biking, fly fishing on the San Miguel River, geocaching, paddle sports, scuba diving, golf, horseback riding, rock climbing, mural painting and other arts, sailing and skateboarding. A complete schedule of events can be found at http://nobarriersusa.org/summit/.
No Barriers USA was co-founded in 2005 by blind adventurer Erik Weihenmayer, to create a community of like-minded people who believed in harnessing their challenges for personal growth rather than being limited by them. Weihenmayer became the first blind climber in history to reach the summit of Mount Everest. At the age of 33, he became one of less than 100 individuals to climb all of the Seven Summits – the highest peaks on each of the seven continents. Building on his own experiences, he helped form the No Barriers organization based on the assumption that each person, regardless of age, state of mind or physical condition, has a thirst for adventure and a hope for the future that is worthy of igniting. The inaugural program was a biennial Summit held in Cortina d'Ampezzo, Italy, in 2005. That Summit and the three held since have featured the newest technologies designed to enable people with and without disabilities to envision a full and active life – a mission that will continue with the Telluride Summit in August.
"The No Barriers Summit inspires a sense of adventure, innovation, community – and a belief in the power of the human spirit," says Weihenmayer, also an author and speaker, as well as a No Barriers board member.
In addition to the Cortina d'Ampezzo Summit, past Summits have been held in Squaw Valley, Calif. (2007); Miami, Fla. (2009); and Winter Park, Colo. (2011). Telluride was chosen as the location for the 2013 Summit due to its landscape – ideal for inspiring innovation, collaboration and a spirit of adventure – as well as its community, which has fully embraced the mission of the No Barriers Summit. Telluride Adaptive Sports Program is the local nonprofit partner for the event, committed to enriching the lives of people with disabilities by providing therapeutic recreational opportunities that develop life skills and encourage personal growth. Telluride Tourism Board worked with organizers to host the event.
Speakers for the 2013 Summit include award-winning journalist Bob Woodruff, who has become a spokesperson for recovering victims of war injuries and Kyle Maynard, the first congenital quad amputee to reach the summit of 19,340-foot Mount Kilimanjaro. The event features many outdoor community activities, including a block party in downtown Telluride, an outdoor movie screening, and No Barriers University, where leading scientists and inventors share the latest innovations in adaptive technology.
Registration before June 1, 2013, is $150 per person with discounts available to families with four or more participants from the same household and military service members. Registration includes entrance to all Summit events, participation in five clinics, dinner on Thursday and Friday evening, plus sack lunches with Friday, Saturday, and Sunday clinics. For additional information on the No Barriers Summit, visit http://www.nobarriersusa.org/summit.
Company Information: No Barriers USA is a nonprofit organization established with the mindset that authentic immersion experiences push individuals outside of their comfort zones, challenging them intellectually, emotionally or physically. Included in the organization of No Barriers USA is Global Explorers and Soldiers to Summits. For additional information, visit http://www.nobarriersusa.org.
Media Contacts: Katie Watkins, No Barriers USA, katie(at)nobarriersusa(dot)org; 970.484.3633; Darla Worden, WordenGroup Public Relations, darla(at)wordenpr(dot)com, 303.777.7667