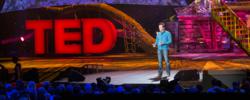 We need to first be limited in order to become limitless.
Minneapolis, MN (PRWEB) May 22, 2013
When running into the inevitable limitations that life brings, one sees a fine line between being held back and moving forward.
More often than not, limitations seem impossible to embrace. But multimedia artist Phil Hansen offers an alternative perspective in today's TED talk. After developing a tremor in his hand that put a halt on his art, Hansen discovered embracing limitations pushes creativity. By committing to "embrace the shake," Hansen went from a single approach to art to opening himself up to a multitude of art expressions including drawing on a stack of Starbucks cups, painting with karate chops, and using hamburger grease to recreate the Mona Lisa. In fact, Hansen believes that being more creative starts with imposing limitations. "We need to first be limited to become limitless," he says. Hansen now strives to spread the message of achieving innovation and success through applying creativity to both our everyday and long-term struggles.
In his current art project, Hansen gives others an opportunity to embrace their limitation by giving out his phone number (651-321-4996), and asking people to call and share their stories about facing a limitation. He's creating LIVE at philinthecircle.com. Watch as he writes each story onto a canvas. Collectively, these stories will create his next art piece.
"I actually teared up a bit as I watched you write my limitation into the piece. Knowing that so many people are going to see this work and only see my limitation as part of the greater picture, it takes some of the power out of my limitation. It stops becoming the only thing on the canvas," a viewer and participant said.
Stories like these keep Hansen on his quest to inspire others to embrace the shake.
Please visit http://philinthecircle.com