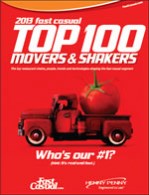 It's always difficult to select the Top 50 fast casual brands, but this year was exceptionally hard, considering the growth of the industry.
Louisville, KY (PRWEB) May 22, 2013
The downloadable "The 2013 Fast Casual Top 100 Movers & Shakers" was released Monday morning, after an awards gala the night before in Chicago, timed to coincide with the National Restaurant Association tradeshow. Both "The Top 100" and the event were sponsored by restaurant equipment manufacturer, Henny Penny.
Judges determined the top 50 brands based on industry nominations and subsequent debate on the significance of the nominees to the segment. Criteria included innovation, growth, social responsibility and overall contribution. In addition, the judges acknowledged the 20 industry executives who have most contributed to the evolution and health of fast casual, the most influential menu innovations, and the most impactful food and technology trends.
Fazoli's, McAlister's Deli and Freebirds World Burrito were recognized as the first, second and third awards, respectively. Don Fox, CEO of Firehouse Subs, was named the industry's No. 1 executive. Burger 21's gluten-free menu took top honors for best menu innovation. The most influential technology trend went to the increasing role of analytics in social media.
"It's always difficult to select the Top 50 fast casual brands, but this year was exceptionally hard, considering the growth of the industry," said Cherryh Butler, senior editor of FastCasual.com. "New fast casuals are opening all over the world, and well-established brands are innovating and getting creative with their menus. It's exciting to watch the industry grow."
"The Fast Casual Top 100 Movers & Shakers represent those brands, individuals and trends that are truly moving the needle in our industry," said Jason Moles, field marketing manager of Henny Penny. "We are excited to partner once again with Networld Media Group and FastCasual.com to recognize these innovative brands."
Of the $660 billion restaurant industry, fast casuals account for $23 billion, but they are driving growth in the restaurant, increasing sales 13.2 percent in sales in 2012, compared to an industry average of 5.1 percent.
About FastCasual.com
FastCasual.com is the world's most-read news and information source to cover fast casual restaurants, which combine the speed of quick-service brands with an atmosphere and food quality typically associated with casual dining establishments.
About Henny Penny
Henny Penny continues more than 50 years of innovation that began in Eaton, Ohio, USA with the first commercial pressure fryer in 1957. Today, Henny Penny offers a wide range of high quality foodservice equipment designed for easier operation, greater flexibility and lower operating costs. Product lines include pressure and open fryers, combi ovens, rotisseries, holding cabinets, and display merchandisers. These products and complete start-up, service, training and technical support, are available through Henny Penny's exclusive worldwide distributor network. For more information on the company, visit http://www.HennyPenny.com.