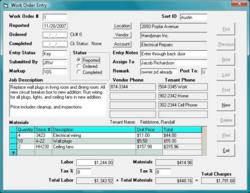 No more yellow post it notes to give my contractor. The Work Order program keeps it all organized and is available when it need it.
Austin TX (PRWEB) May 23, 2013
W G Software, Inc. has provided excellent property management software for 15 years. Thousands of real estate offices, landlords, property owners, and property managers utilize the Tenant File program every day. Wayne Gathright, president, says "We are constantly striving to improve our software and provide additional capabilities for our customers." Gathright further explains that "With the Work Order Module, our users are able to better maintain detailed information about work performed on their rentals."
The Tenant File Work Order provides the user with a screen to enter tracking dates, notes, a detailed job description, and materials used. Vendor information, accounts, tenant and rental information is shared with the main Tenant File database, making the program fully integrated. Once entered, the user can email the vendor with a job request and run reports that utilize sorting and filtering capabilities.
As the information is tracked through to completion, payments can be created to the vendors. These payments are sent to the main program for processing through printed checks or ACH transfers. All of this is done with a user friendly interface. However, if users have any questions, the Tenant File Work Order program is also covered under the free web support option for all Tenant File users with any of the last three released versions.
By maintaining current technology, yet including the security and speed of desktop software, the Tenant File remains a popular rental property management software with owners, landlords, or property managers. For more information, contact the Tenant File through their website at http://www.TenantFile.com.