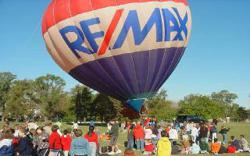 We are always happy to send the RE/MAX balloon to elementary and junior high schools throughout northern Illinois so students can learn about the science and physics of ballooning
Chicago, IL (PRWEB) May 21, 2013
The RE/MAX Hot Air Balloon will pay a May 30 visit to the Jonathan Y. Scammon Elementary School, 4201 W. Henderson St., Chicago, in the Kilbourn Park neighborhood, where the balloon crew will present an interactive educational program developed and sponsored by the RE/MAX real estate network in northern Illinois.
The RE/MAX balloon has become a nationally recognized corporate symbol since it was created 35 years ago and then combined with the now familiar RE/MAX "Above the Crowd!"® slogan. Today, the balloon enjoys great success in achieving both educational and promotional objectives, appearing frequently at festivals, parades and charity events.
The RE/MAX balloon will be involved in more than 100 educational programs presented by its crew at schools across northern Illinois this year.
Eight-hundred-fifty students at the school will learn about various aspects of ballooning, including its history and the scientific principles involved, and they will see a demonstration on how the balloon functions.
"We are always happy to send the RE/MAX balloon to elementary and junior high schools throughout northern Illinois so students can learn about the science and physics of ballooning," said Laura Ortoleva, media spokesperson for RE/MAX in northern Illinois.
The program will begin at 9 a.m. outdoors on the school grounds, weather permitting.
The balloon envelope will be inflated with hot air to its full 75-foot height if the program is held outdoors. If the program needs to be moved indoors due to inclement weather, the envelope will be inflated with cold air so that students can walk inside it as part of the educational experience.
Also on hand to enhance the occasion will be a "cold air" version of the RE/MAX Soaring Home Balloon, a house-like inflatable that has become a crowd favorite since being introduced a few years ago.