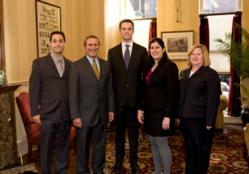 (PRWEB) May 23, 2013
The Law Firm of Pozzuolo Rodden, P.C., Philadelphia Business Attorneys, announces the release of the article " How An Employer Can Protect Itself From An Employee's False Accusations In The Social Media" Please read the full article and other corporate law, or estate planning topics at: http://www.pozzuolo.com
How An Employer Can Protect Itself From An Employee's False Accusations In The Social Media
Social media has become a constant presence in people's everyday life with websites such as Twitter, Facebook, Google+, LinkedIn and various industry related online public forums becoming commonplace. Social media allows individuals to broadcast their every thought, from the mundane to the important, to thousands of others. This can lead to conflicts in employment when employees begin to publicize and vent their complaints about their employer or coworkers over various social media websites.
This could even lead to an employee making false accusations, including, but not limited to, false accusations of discrimination relating to product quality or the non-reporting of income. Damaging accusations could easily be spread throughout the employer's community and quickly impugn the reputation of the employer and its products. False accusations made by an employee can arise from any type of situation, such as retaliation for not being promoted, mental instability, thoughtlessness, or possibly a distorted view of the situation. What, if anything, can the employer do to stop or minimize the damage from such employee's false accusations?
I. Prevention: Stop False Accusations Before They Start
Prevention is the best strategy for employers to minimize any possible false accusations by employees. The best way to do this is through having a code of conduct or an internet/social media policy, which all employees should sign and acknowledge as a condition of employment. These policies should give clear examples delineating the line between appropriate and inappropriate social media usage.
A social media policy should clearly state that actions on employer provided equipment (e.g. cell phones, laptops, or internet access) may be monitored or there may be an absolute prohibition of non-work related uses of such equipment. Additionally, the policy should state the investigative and disciplinary procedure for any employees found to be making false accusations, including possible termination and/or a defamation lawsuit with damages. Employees will have a clear guide of how violations of the employer's social media policy will be consistently handled by the employer.
However, employers must ensure that the policy complies with federal, state, and local law. The National Labors Relations Board ("NLRB") requires that such policies be narrowly tailored and do not generally ban an employee's ability to discuss the terms and conditions of their employment. Overly broad policies are prohibited, but a policy may contain language that the employee should be honest and accurate in their postings, quickly correct any mistakes and avoid posting rumors or knowingly false information. Furthermore, certain states, such as California and New York, have off duty protection laws that prohibit the firing of a worker for certain off duty activities. Thus, policies should be reviewed by an attorney to ensure the policy adequately protects an employer and does not violate any state and local laws or NLRB requirements.
Please read the full article and other corporate law, or estate planning topics at: http://www.pozzuolo.com
Pozzuolo Rodden, P.C. provides specialized cost-effective legal services to privately held business owners and high-net-worth clients in Pennsylvania and New Jersey in excess of 35 years.
Practice Areas:
Business planning and transaction, complex business litigation, commercial real estate and development, construction law and litigation, advanced estate planning and administration, tax and pension law, high profile and intricate family litigation, and employment law and litigation.
Pozzuolo Rodden, P.C.
Counselors at Law
2033 Walnut Street
Philadelphia, PA 19103
215-977-8200
http://www.pozzuolo.com