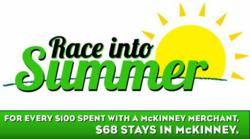 When residents buy local, the sales tax collected on the product goes back into the community
McKinney, TX (PRWEB) May 21, 2013
The Race Into Summer promotion kicked off on May 20 and consists of a special deal or discount offered every day for two weeks to celebrate the start of summer. Followers can visit the Buy Local – McKinney First! Facebook page or website for daily deals.
The Chamber encourages businesses and residents to participate in buying local, which means buying from businesses in McKinney rather than outside the area or over the internet. "By participating in the Buy Local- McKinney First! program, local businesses have the opportunity to promote their business and be connected to a campaign that has broad appeal with consumers. To complete the circle, residents who buy local are getting great deals and supporting their community. We all win," says McKinney Chamber President Jodi LaFreniere Ray.
For every $100 spent in McKinney, $68 stays in McKinney to be reinvested and recycled by supporting another local business. When residents buy local, the sales tax collected on the product goes back into the community. The city, for example, uses sales tax revenue to invest in parks and other community development projects, attract jobs and investment to McKinney and provide high-quality community services such as police and fire protection, trash service and parks and recreation offerings, among other things.
This promotion runs for two weeks and offers a wide variety of deals from local businesses.
About the McKinney Chamber of Commerce
The McKinney Chamber of Commerce is an advocate for the McKinney business community and proudly serves as the unified business voice of McKinney. The McKinney Chamber of Commerce proudly serves over 1,200 member businesses representing over 39,000 employees throughout the North Texas region. With a rich heritage of leadership and collaboration, the Chamber works in concert with the City of McKinney, community partners and the corporate community to promote, advocate for and expand business, and earned its four-star accreditation with the U.S. Chamber of Commerce. As publisher of McKinney Magazine, McKinneyOnline and McKinneyChamber.com, the McKinney Chamber markets the community's advantages as the foremost location for doing business.