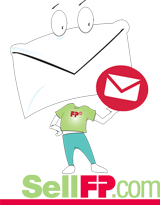 We're positioning FP for a future where the lines between physical and digital are increasingly blurred.
Addison, IL (PRWEB) May 23, 2013
FP Mailing Solutions has launched an aggressive program called SellFP.com to recruit sales professionals into its dealer and independent rep networks. Flying in the face of general economic and mailing industry declines, FP's continued growth has created opportunities for B2B businesses to expand revenue and individual sales reps to find fulfilling work.
The comprehensive new recruitment program appeals to four unique sales types:
1. Expand Your Brand – for Existing Office Equipment Dealers
2. Be the Boss – for Startup FP Dealership s
3. Join a Local Winner – for Dealer Sales Rep Placement
4. Be Your Own Boss – for Independent Sales Reps
Although physical letter deliveries are incrementally declining in the wake of increasing digitization of communications, FP enjoys continued growth in supplying postage meters and mailing solutions. "I'm very optimistic about the future of FP as a full-service facilitator of helping business move words and objects," said Kevin Pietras, FP's Director of Marketing. "We not only serve the traditional market with the most advanced, user-friendly postage meter and mailing software products, PostBase and MailOne 2.0, we're positioning FP for a future where the lines between physical and digital are increasingly blurred."
This confidence in the mailing/communications market translates into new possibilities across the U.S. for office equipment businesses interested in broadening their customer portfolios, mailing industry veterans ready to set up shop on their own as home businesses or storefronts, and individuals with B2B sales experience who simply want secure employment with a local FP dealer.
For more information about the FP sales opportunities, go to SellFP.com.
FP Mailing Solutions, an international manufacturer of postage meters, mailing systems and mailroom software, is the fastest growing postage meter provider in the U.S. Whether you have a large mailroom or own a small business, FP Mailing Solutions has the tailored postage meter system for your needs. For more information on FP Mailing Solutions, visit fp-usa.com.