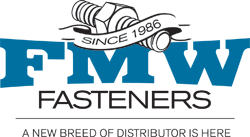 Houston, Texas (PRWEB) May 23, 2013
The selection of application specific products continues to grow at FMW Fasteners with Intercorp's Strong-Point® Pole Gripper screws for roofing and siding applications. These screws come available with our without bonded sealing washers as well as in standard or Hi-Lo thread patterns.
All Pole Gripper screws come with STRONG-SHIELD® coating that exceeds 1,000 hour salt spray resistance and provides an excellent corrosion barrier against rust, acid rain, and ACQ treated lumber.
FMW Fasteners also offers free shipping on orders over $25.00 and flat rate $5.00 shipping on orders under $25.00.
Founded in 1988, Intercorp has established itself as an industry leader in the fastener distribution business. Their flagship brand, Strong-Point®, consists of a variety of high end fasteners including Self Drilling, Drywall, Stainless Steel, Needle Point, Woodworking, Pole Gripper, Outdoor and Cement Board Screws. With an outstanding reputation for quality products, customer service, quick delivery and support, Intercorp is unmatched when it comes to high quality fasteners.
FMW Fasteners is your online source for premium fastener products, to include anchor products, nuts, bolts, socket products and screws. Founded in 1986 in Houston, Texas, FMW Fasteners stocks premium products by Brighton-Best, Simpson Strong-Tie Anchor Systems, ITW Buildex, Intercorp, Toggler® Anchor Systems, FastenMaster and many more. For more information, visit http://www.fmwfasteners.com or follow FMW Fasteners for updates and promotions on Twitter, Google+ and Facebook.