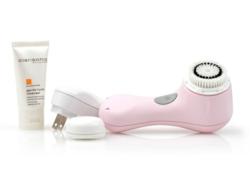 Improves skin tone, reduces the appearance of pore size and helps skin care products work their best!
Brea, California (PRWEB) May 24, 2013
When it comes to cleansing your face, fingers are not enough and will never get your skin really clean. Fingers cannot exfoliate, not to mention there is bacteria under fingernails. Skincare Market, Inc. carries Clarisonic Mia Sonic Skin Cleansing System which is an inexpensive tool that will dramatically improve skin's appearance.
Cleansing alone does not fully remove makeup and over time skin starts to get dull, blackheads appear, and skin starts getting chapped and flaky. Acne can appear as a result of makeup buildup that hasn't been properly removed.
Clarisonic Mia thoroughly removes makeup, dirt, and oil better than manual cleansing alone. It leaves skin cleaner and more exfoliated so serums and treatment products can penetrate better. When used daily your skin will feel much cleaner than ever before!
The Clarisonic Mia does not use damaging circular motions to cleanse the skin. Instead, it uses gentle vibrations to clear out dead skin cells to allow treatments to penetrate deep into pores to help rewnew skin. With continued use, results have been perfect skin with no blemishes or breakouts.