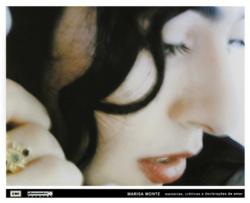 Miami, FL (PRWEB) May 23, 2013
WPBT2 and the Rhythm Foundation proudly announce this special broadcast of a spectacular Brazilian star. Marisa Monte, a native of Rio de Janeiro, is a unique artist who combines the aura of a pop star, the elegance of a jazz diva and the roots of a samba muse. Not since the iconic generation of Elis Regina, Maria Bethania and Gal Costa has a singer so captivating and popular emerged out of Brazil. Directed by Lula Buarque de Holanda, this concert film captures the mesmerizing homecoming concert ending the 2001 "Memories, Chronicles, and Declarations of Love" tour in support of the album of the same name. With a captivating stage set by artist Ernesto Neto and featuring numerous hits like "Amor I Love You," "Nao Va Embora," "O Que Me Importa" and "Bem Que Se Quis," this performance showcases Monte in all her power, grace and beauty.
US fans of this Brazilian superstar have been waiting seven years for her return, following the sensation of her 2006 tour. Her appearance at the closing ceremonies of last year's London Olympics wet their appetite even more. The Rhythm Foundation is honored to have presented Marisa Monte in Miami since her debut tour in 1994, and every sold out tour ever since. Recognized as one of the great Brazilian singers of our time with three Latin Grammys and more than 12 million records sold around the world, Marisa is renowned for creating a bridge between traditional and contemporary pop music. Her latest tour, which has already been seen by more than 300,000 people in 20 cities in Brazil and Europe, will visit Miami Beach, one of only two US cities this year, on June 23rd and 24th at the Fillmore Miami Beach at the Jackie Gleason Theater.
The broadcast on June 3rd, which will feature a special concert ticket offer, will be hosted by Gene de Souza, Development Director at the Rhythm Foundation and also host of the award winning radio program Café Brasil on WDNA 88.9FM.
Funding for this program is provided by Espirito Santo Bank.
About WPBT2
South Florida's premier public broadcaster, WPBT2, is a community-licensed, not-for-profit media enterprise serving communities from the Treasure Coast to the Florida Keys. WPBT2 provides high quality content from PBS, independent acquisitions and its own original productions. WPBT2's digital media platform, offers: 2HD, a 24-hour high definition channel; Digital 2.2, a mix of Science & Nature Channel, The Florida Channel and Create; Digital 2.3, V-me, a 24-hour national Spanish-language network; and http://www.wpbt2.org, the WPBT2 website including, Impromp2 (a community blog), the WPBT2 Video Player and uVu, a video sharing website.
About The Rhythm Foundation
The Rhythm Foundation, a Miami-based non-profit cultural organization, is the foremost presenter of world music in South Florida. Founded in 1988 with the goal of increasing international awareness through live music, the Rhythm Foundation has presented more than 500 concerts, events and festivals by established and innovative artists from around the world. Special focus is given to those cultures connecting to South Florida audiences – music from Brazil, Latin America, Africa, the Caribbean, Asia and Europe. The range of programs covers music at the heart of global culture today to the traditional music of the world. The organization has received numerous awards in its 25 years, including several "Best Concert Series" from the New Times Best of Miami.