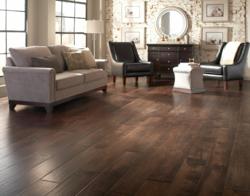 We made the decision to provide our dealers and distributors with an engineered flooring product that has the look of a custom floor with the advantage of keeping inventory in-stock to meet current consumer demands. - Louie Wang, Corporate Operations
City of Industry, California (PRWEB) May 30, 2013
Johnson Hardwood took a step back to study what consumers and designers are looking for and determined that bolder is better for new flooring trends, and has added 7-foot long planks to their 2013 product line. The demand for longer and wider planks has hit the hardwood flooring market. Consumers and interior designers are looking to make bold statements with continuous pieces of hardwood that make spaces look longer, wider, and provide a less distracting flooring pattern. Johnson has reacted to this demand by creating the English Pub series that consists of 7-foot long by 7-1/2 inch wide planks. Hand sculpted in the Johnson Hardwood product tradition, the concept is modern with a craftsman twist, taking the idea from reclaimed naturally worn wood that has been refinished for modern day use. The English Pub series is available in a wide variety of rich colors and includes both maple and hickory wood species.
The English Pub series was created not only with consumer demands in mind, but also from suggestions and feedback coming directly from Johnson Hardwood dealers. "We made the decision to provide our dealers and distributors with an engineered flooring product that has the look of a custom floor with the advantage of keeping inventory in-stock to meet current consumer demands," says Louie Wang, Chief Operations Officer for Johnson Hardwood. "Our success is based on the success of our customers. Keeping that in mind, we try our best to provide our dealers and distributors with on-trend products at price points that makes sense for their business. Being the manufacturer of our products gives us a unique advantage. We are not opposed to private label and proprietary product lines. Our product development team keeps the U.S. regional environmental and interior design aspects in mind when creating new products. What works in the upper east coast may not work in the mid-west, so we make the effort to work with our customers to design product lines that will work for them. English Pub has a distinct look, but with a variety of stains to create a cohesive custom product line if that is what our dealers are looking for." English Pub was made for the hardwood-flooring customer that wants the look of reclaimed wood from a beautiful old barn on their floors at a fraction of the cost. Imagine driving down a country road and coming upon an exquisite old building. Timeless craftsmanship is the goal and standard set to making the English Pub flooring series.
Johnson Hardwood is not just focused on vintage this year. In keeping up with the contemporary design and lumber trends for 2013, Johnson Hardwood is releasing the Pacific Coast Series that will hit the market in early August. Colors will run the spectrum from white to black in hickory, maple, and birch wood species. With interior design trends steering towards high contrast this product line is sure to find its fans. "Hardwood flooring and working with a natural resource in general is a fascinating way to make product", says Bill Schollmeyer, CEO of Johnson Hardwood. "There is only so much control that you are allowed when it comes to developing your product. The environment takes care of a lot of your decision making. This challenge allows our product development team to exercise their creativity having to think not only globally, but also in the way of grain structure and natural hues among the different wood species. It's a great way to bring a flooring product to the market that wasn't there before, and gives our customers that wild card they need to differentiate themselves amongst their competitors." An example of Johnson's creativity is while Red Oak has experienced limited harvesting over the past few years, Johnson Hardwood has invested in the species and brought Red Oak back to the flooring industry with an expected product release date of August 2013. Johnson Hardwood continues to work towards what's new and next, giving their customers the best of what's to come.
About Johnson Hardwood
Johnson Hardwood is one of the leading manufacturers of premium hardwood flooring to the United States and Canada. Since our inception in 1999, Johnson Hardwood strives to source high design, premium wood species from around the globe to produce on-trend, hand-crafted hardwood flooring options.