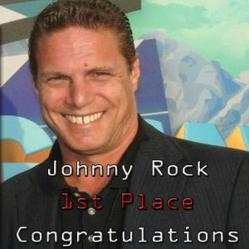 "We knew this contest would give members the opportunity to pull together their best work and put it out there for casting and booking agents to see.
New York, NY (PRWEB) May 22, 2013
Now that video submission are a standard in the acting industry, eTalentShowcase.com challenged its members to enter its Best Reel Contest and show America a compilation of clips that is usually privy only to casting agents and directors. A panel of judges chose 10 finalists from thousands of submissions and then the fans took over to decide who would come out on top. When the voting closed today, actor Johnny Rock was cast in the role of eTalentShowcase.com Reel Contest winner.
"I know I won because of the amount of support that I have from my fan base," said Rock, who has appeared in films such as 'I love you Phillip Morris', 'Disaster Movie' and 'The Terror Experiment.' "I am thankful for each and every one of them!" he said. Rock also has some celebrity muscle in his reel with Jim Carrey and Jason London appearing in his clips. "Winning this contest confirms that I haven't just been spinning my wheels," Rock continued. "It shows that people do believe in my work."
Rock said he was confident that the prize, a social media bonanza from eTalentShowcase.com—including a featured spot on the site's Youtube Channel and home page as well as a huge promotional social media push—will get him attention from casting directors. He expects more auditions and more work in the near future. "I love acting and the entertainment business in general," he said. "Winning this social media promotion with eTalentShowcase will open more doors for me to be more involved in the industry—and that's just fantastic!"
Just a few votes separated actors in the top four spots. Jack E. Curenton, who came in second, said being a part of the contest was an amazing experience. "It was a great honor to just be chosen from the thousands of submissions as one of the Final Top 10. There was a phenomenal group of talent represented across the country and they all deserved to be a part of this," said Curenton.
Kelsey Lynn Stokes, also in the top four added, "The experience was exhilarating because I've haven't entered any sort of competition involving acting since high school, and the stakes were certainly higher this time around. The exposure alone was a blessing. I was amazed at all of the people in my network that emerged from the woodwork to help get the word out and vote. That kind of care and support made the whole experience incredibly worthwhile."
Actor Linda Wartenweiler rounded out the top four. "There's only so much you can do to promote yourself," she says. "You need to become creative in order to reach your "audience" and this was definitely creative. It was also interesting to see who voted for you and how supportive certain friends can be."
"I think this was eTalentShowase.com's most successful contest to date," said Edward Olimpio, vice president of marketing for the site. "We knew this contest would give members the opportunity to pull together their best work and put it out there for casting and booking agents to see. eTalentShowcase.com is designed to show off great video and we wanted our members to really take advantage of this. They didn't disappoint. The reels were amazing and indicative of the quality of talent on this site. Congratulations to Mr. Rock. It's a win well deserved."
As the winner of the contest, Johnny Rock shared his tips for creating a killer reel. To read his advice, visit "5 Steps to Creating A Killer Acting Reel" . Look for the next eTalentShowcase.com contest to be announced this week!
About eTalentShowcase.com
eTalentShowcase.com is a social media site that provides artists and entertainment industry professionals with powerful, intuitive tools to connect, promote and prosper online. The site offers job listings, free profiles, original content, contests and a base of active, engaged fans. eTalentShowcase, Where Talent Gets Discovered.