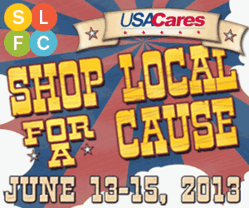 Ottumwa, Iowa (PRWEB) May 28, 2013
Thomas Shafer, an insurance agent, was recently given the Red Cross' Hero of the Heartland award for his numerous community contributions. Shafer is adding USA Cares to his long list of organizations he supports.
USA Cares has teamed up with the NALA's (http://www.theNALA.com) Shop Local for a Cause, an event for local businesses to help bring awareness to worthy causes. USA Cares provides post-9/11 military families with support in their time of need. To date, they have given approximately $10,000,000 worth of grants and saved over 5,000 military homes from foreclosure, keeping an estimated 6,000 children from becoming homeless.
Please visit Shop Local for a Cause to learn more or to find more local businesses participating.
About the NALA™
The NALA, a small business association, is for local business owners offering new online advertising & marketing tools, great business benefits, education and money-saving programs, as well as a charity program. The NALA has created a strong emphasis on partnering with charities by giving their members the ability to participate in non-profit drives all year.
About Thomas R. Shafer & Lori R. Mason - Farmers Insurance Agents
Thomas R. Shafer & Lori R. Mason, located at 112 N Court in Ottumwa is a locally owned and operated Farmers Insurance Agency proudly serving the Ottumwa community for over 35 years. Tom's 33 years of actively being involved in the community and Lori's 10 years of experience and professionalism ensures that customers will receive the maximum coverage at the most competitive premium. The auto, home, life, manufactured homes, health, farm and business policies are expertly tailored to customer's individual needs.
PR Contact: Tiffani Tendell
805.650.6121 x361
ttendell(at)starkartthenala(dot)com