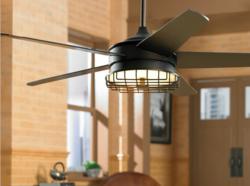 Ceiling fans are a stylish, cost-effective and energy-efficient way to keep cool this summer!
Los Angeles, California (PRWEB) May 22, 2013
While scientists and politicians continue to debate whether or not the planet is getting warmer, one thing is certain for most Americans each summer: the days are hot. With a wider range of design options available than ever before for homeowners looking to buy a ceiling fan, the nation's largest specialty lighting retailer, Lamps Plus, suggests four things consumers will want to consider prior to making a purchase.
Energy Efficiency
Ceiling fans save energy, which in turn saves money. Manja Swanson, Chief Creative Officer with Lamps Plus, elaborates: "There are a lot of differing facts and figures out there about how much money consumers can save by using ceiling fans, but they all point to the same general conclusion: they save electricity." Fans don't actually cool the air in a room, but by moving the air they can make it feel up to four degrees cooler. This effect allows people to save money by raising their thermostats without feeling the sensation of a higher temperature. Whether they're running central air (albeit at the higher temperature setting) in conjunction with a fan or doing without an air conditioner altogether, consumers save by using ceiling fans to keep their homes cool.
Decor and lighting retailers also provide consumers with a full complement of energy usage information, including an airflow efficiency rating which is determined by dividing the airflow of a fan (in cubic feet per minute) by the electricity used. The higher the final number, the more efficient the fan is at pushing air around the room. While a higher rating doesn't necessarily mean a fan uses less electricity, it does help consumers find the coolest blowing fan per wattage consumed.
"One of the things we've learned from publishing our annual ceiling fan catalog each spring is that consumers are increasingly interested in energy efficient ceiling fans." For added efficiency, consumers can look to ENERGY STAR ceiling fans which meet the stringent US Environmental Protection Agency guidelines and can be more than 50% more efficient than conventional designs.
Location, Location, Location
"Where a fan will be placed goes a long way towards dictating which one is right for you," says Swanson. "Consider your space prior to finding your style. Will it be indoors or out? Is it a large room or small? If it's outdoors, will it be in a covered patio or out in the open?" Consumers have two primary size considerations when fitting a fan to a room: hang height and blade span. Blade span is measured as the diameter of the circle a fan blade tip draws when in operation. The larger the room, the larger the fan needed to properly move air. As a general rule, large rooms will take 50 inch and larger fans, while smaller rooms should be adequately ventilated with 42-44 inch fans. A handful of fans under 40 inches are available and are perfect for extra small rooms.
Ceiling heights dictate the hang height of a ceiling fan. Fan blades should always be at least seven feet above the floor, while eight to nine feet is optimal for air flow around the room. High ceiling rooms usually require downrods, which range from 12 inches to 72 inches in length and connect the fan to the ceiling canopy. For rooms with low ceilings, hugger flush mount ceiling fans affix directly to the ceiling for a much lower profile than downrod styles.
Outdoor ceiling fans must be able to safely handle exposure to wet weather. Fans that are UL-listed for wet locations can be used in uncovered areas such as patios. For covered porches, fans should still be UL-listed for damp locations. Damp location fans can also be used in the bathroom.
Style Matters
"Material, finish and form are all stylistic factors when buying a fan," says Swanson. Finishes range from black and dark bronze to neutrals like white and brushed steel. Natural rattan and wood fan blades add a natural element to decor, while reversible blades allow consumers to slightly alter the look with minimal effort. Swanson advises consumers to find designs to complement their existing decor. "Whether it's modern, traditional or in-between, your room will benefit from a fan that's in the same style."
To Light or Not to Light?
Lastly, consumers should decide whether or not they want ceiling fans with lights included. Because they install directly into ceiling fan approved junction boxes, fans are generally located in the center of the room, where such boxes are usually situated. For that reason, many consumers will opt for a fan with a light. Sold with integrated lights or with optional light kits, these designs offer the cooling characteristics of a fan with the added benefit of a ceiling light. Increasingly, the lights will include energy-efficient (and much cooler running) CFL bulbs.
"Fans may be a cost effective and energy efficient way to cool the house, but as you can see, there are a lot of variables to consider before you buy a ceiling fan," concludes Swanson. "By addressing these key questions, consumers can narrow down the possibilities. With thousands of designs on the market, many of which allow you to design your own, fans are a versatile and smart way to keep cool this summer."
About Lamps Plus
For more than 30 years, Lamps Plus has been synonymous with excellence in the retail lighting industry. Established in 1976, Lamps Plus is the nation's largest specialty lighting store, with more than 40 superstores throughout the western United States. In 2013, LampsPlus.com was named a Top 10 Housewares/Home Furnishings e-tailer and a "Hot 100" world's best retail website by Internet Retailer Magazine. Together with its retail locations, the company serves customers nationwide with the largest selection of functional and decorative lighting fixtures, accessories, furniture and home decor. This selection includes hundreds of products, ranging from traditional chandeliers to the latest in home decor, available exclusively from Lamps Plus. The company also holds several patents for innovative lighting. Services offered include in-home lighting consultations, in-store workshops and installation from expert, licensed electricians. American Lighting Association certified designers are available to offer product recommendations and advice in all our stores, by phone or online at LampsPlus.com. The Lamps Plus family of websites also includes 55 Downing Street, Lighting Luxury Style, Builders Discount Lighting, and Lamps Plus Open Box. Visit the official Lamps Plus website: http://www.lampsplus.com