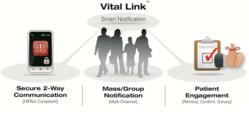 One-way paging leads to medical errors and costly re-admissions, Vital Link solves the problem.
Rolling Meadows, IL (PRWEB) May 23, 2013
Mutare, Inc. is pleased to announce it will be an exhibitor and presenter at the 2013 conference of the International Avaya Users Group (IAUG), June 3-7 at the Gaylord Palms Resort and Convention Center in Orlando, FL. The conference will provide Avaya users with access to the new Vital Link platform that combines 2-way secure communication, mass notification and patient engagement into a single platform.
A recent study released by the Ponemon Institute calculated that inefficiencies caused by one way paging contribute to a staggering $8 Billion wasted annually by US hospitals. Sorensen will be presenting the solution on Thursday, June 6, at 8:30 AM as part of the Mobility track. Attendees of the exhibition will also be able to experience live hands-on demonstrations of the system at booth #309.
"In addition to the Ponemon survey data, a 2011 study published in the Journal of Surgical Education, concluded alphanumeric one-way paging is a real source of problems in patient care," said Sorensen. "Inefficient communications leads to medical errors, patient re-admissions and HIPAA security violations that are easily solved with Vital Link's secure 2-way communication for pager replacement." As former CTO of the University of Chicago Medical Center, Sorensen is an expert on clinician communication and workflow. Sorensen designed the Vital Link solution to overcome the problems inherent in one-way communication to improve healthcare outcomes and to dramatically lower the costs associated outdated paging systems.
For additional information, including design and discovery, quotes, demonstrations and meeting support, contact Mike Sorensen at 847-496-9055 or by email to msorensen(at)mutare(dot)com. Take a closer look by visiting us on the web at http://www.mutarehealthcare.com.
About Mutare
Mutare's unified messaging, smart notification and speech technology products help increase your sales, reduce your costs and assist with regulatory compliance. Mutare is what unified communications should be – fast, easy and guaranteed. For more information, visit Mutare on the web at http://www.mutare.com.