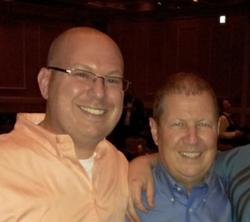 I know I am turning my company over to someone who has the same passion I do
(PRWEB) May 22, 2013
TOPS Software, developer of the industry-leading TOPS Professional software for Condominium and Homeowner's Association Management, announced today that Founder, Jeff Hardy, will be stepping back as President of the company. Hardy pioneered computer assisted management software in 1979, which he developed to facilitate the operation of his successful Condo/HOA Management company. In his new role of Chairman of the Board, Jeff will continue to be involved in guiding the direction TOPS, which he founded in 1985.
"It has been a rewarding experience to be able to develop and lead a team of dedicated and passionate professionals over the past 28 years here at TOPS Software," said Jeff Hardy. "I am looking forward to my new role as a mentor to the company."
Mike Hardy was named to succeed Jeff Hardy as President, and will carry on the work his father began. As Vice President of Sales at TOPS, Mike Hardy has built and led a strong and enthusiastic team of sales professionals. Under his direction, TOPS Software has continued to experience significant growth year after year. He has also directed the release of several new and widely anticipated software products, such as TOPS Go! for Mobile Managers in both Android and iOS platforms, and TOPS Professional Hosted.
Mike Hardy has more than 14 years of software sales and sales management experience. Prior to joining TOPS Software, he worked at Vocus, Inc. (VOCUS) where he specialized in web-based solutions for the public affairs industry as a Senior Account Executive. Mike is a graduate of Radford University and has degrees in History and Political Science.
Jeff Hardy has high expectations for the future of the company: "I foresee great success under the leadership of my son, Mike. He has made significant contributions to TOPS Software's growth in his role as VP of Sales over the last four years and I know that as President he will lead the TOPS team to greater successes in the community management industry. Most importantly, he has a vision about where TOPS Software should be going in the next 10 years. I know I am turning my company over to someone who has the same passion I do, and that this will be a seamless transition for customers and employees."
About TOPS Software
TOPS Software, the leader in Condominium and HOA management solutions, is committed to bringing the best products and services to market. TOPS products are used by thousands of organizations to manage millions of homes across the United States. TOPS' flagship product, TOPS Professional Hosted is a complete accounting and property management system that brings all facets of community association management together into one, integrated system in the cloud.