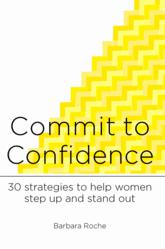 "I felt like I had been in a two-day workshop when I finished the book!"
- Linda Stewart, CEO, Interaction Associates
Wilmington, DE (PRWEB) May 23, 2013
Just released this month on Amazon and B&N is a new book by executive coach and author Barbara Roche: "Commit to Confidence: 30 Strategies to Help Women Step Up and Stand Out."
Filled with helpful tips and quotes from the fields of psychology and business, relevant and humorous stories from business leaders, and tangible exercises that readers can do on their own or with a coach, this book shows women how to achieve their personal and professional goals.
"My book is a five-chapter coaching session on how women can increase their confidence, 'lean in', and take considerable action to achieve their goals," Roche said.
Topics covered include: cultivating personal presence; speaking in public; landing a dream job; becoming more persuasive; and enhancing one's personal brand.
For more information or to order, please visit http://www.barbararoche.net or amazon.com or barnesandnoble.com.