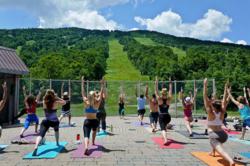 Statewide, VT (PRWEB) May 21, 2013
Vermont ski areas play host to a variety of events throughout the off season. Here are some of the highlights:
Opening Weekend BBQ & The Magic Trunk Show
May 26, 2013 at Bromley Mountain
Enjoy the traditional opening weekend BBQ and welcome back some Adventure Park favorites, the Magic Trunk Show's comical cast of wisecracking puppet characters. Two showings: 11:30 a.m. and 2:00 p.m.
Dark Star Orchestra
May 31, 2013 at Jay Peak
Get down with the Grateful Dead tribute band Dark Star Orchestra playing live in the Foeger Ballroom of the Hotel Jay on Friday, May 31. Performing to critical acclaim worldwide for nearly 15 years and over two-thousand shows, Dark Star Orchestra continues the Grateful Dead concert experience.
School's Out "2-4-1" E-Coupon Day!
June 14, 2013 at Bromley Mountain
E-coupons, dude! Grab a friend and come on over to VT's Summer Adventure for two-for-one Mountain Adventure passes with your downloaded e-coupon. Be sure to download and print the e-coupon before midnight, Wednesday June 13, or the offer will disappear. Get an e-coupon here.
Jackson Gore Summer Music Series
June 14 - August 30, 2013 at Okemo Mountain Resort
Every Friday night throughout the summer, visitors enjoy a complimentary lawn concert from 6 to 9 p.m. at Okemo Mountain Resort. Concerts are held in the Jackson Gore Inn Courtyard. Bring the family and enjoy dinner and drinks with an outdoor barbecue. (802) 228-1600
Brewgrass Festival
June 15, 2013 at Sugarbush Resort
Sugarbush summer events are a great way to experience the Mad River Valley without the snow. The Brewgrass Festival returns this summer with numerous regional beers, great music and tasty food.
The Eastern States Cup
June 15-16, 2013 at Sugarbush Resort
The Eastern States Cup is coming to Sugarbush for two mountain bike races with the SuperD on June 15th and the Downhill on June 16th.
Wanderlust
June 20 – 23, 2013 at Stratton Mountain Resort
Wanderlust is a multi-day yoga and music festival. The fest features yoga classes, guided meditations, hikes, concerts, local and organic eats and lectures from renowned speakers. Come for one day or four, wander the market without a ticket or try your hand at something new. This Top 10 Vermont Summer Event is for true yogis, nature lovers and localvores.
2nd Annual NEMBA Mountain Bike Festival
June 21-23, 2013 at Burke Mountain
Three days of mountain biking on the world class Kingdom Trails, camping, music and mountain bike industry expo with over 50 vendors to demo the latest in mountain bike equipment and gear.
15th Annual Stowe Wine & Food Classic
June 21-23, 2013 at Trapp Family Lodge
Celebrate Wine and Food to benefit charitable health care at Copley Hospital. Imagine fine wines, superb cuisine, and rare wines at auction, at the world famous Trapp Family Lodge, overlooking the Village of Stowe, Vermont. stowewine.com
3rd Annual Vermont Ski and Snowboard Museum Epic Summer Event Sunday
June 30, 2013 at Trapp Family Lodge
The bike course consists of a 20 kilometer loop, utilizing some of the finest single track trails in all of New England; starting and finishing at the Trapp Family Outdoor Center. New this year is a partnership with the Eastern Fat Tire Association (EFTA) to have the event included in EFTA's Championship Series. Proceeds benefit the VTSSM. For more information, visit vtssm.com
Independence Day Celebration
July 4, 2013 at Smuggler's Notch Resort
Enjoy an old-fashioned celebration in Jeffersonville with a parade at 10 a.m., carnival, food and music. Smugglers' Notch Resort hosts a delicious late afternoon firemen's barbecue perfect for picnicking on the resort's Village Green, an evening performance by the Vermont National Guard 40th Army Band and fireworks at dusk. (smuggs.com; 855-581-5906)
4th of July Celebration
July 5, 2013 at Burke Mountain
One of the best fireworks displays in the region, scenic chairlift rides, delicious home-style BBQ and fun.
Farmer's Market Fridays
Friday's starting July 5, 2013 at Stowe Mountain Resort
These celebrated mountainside markets take place Fridays from 11 a.m. to 3 p.m. in the Spruce Peak Plaza; featuring local cheeses, produce, heirloom grains, crafts, prepared foods, live music and more. Never before in the resort's 75-year history has this level of regional goods ever been offered at the mountain. In addition, there are weekly themed dinners at the Cliff House & Solstice restaurants, fireworks, interactive arts and live music every weekend at Spruce Peak Plaza.
Vermont Symphony Orchestra
July 5, 2013 at Woodstock Inn and Resort
Woodstock Inn and Resort will host the Vermont Symphony Orchestra on Friday, July 5th with fireworks.
Mountain Friends and Freedom Celebration
July 6, 2013 at Stratton Mountain Resort
An all-American weekend to ring in the fourth of July at Stratton. Think fun, BBQ, music, games and fireworks! This also kicks off our Saturday Under the Stars Concert Series. Free weekly outdoor music series, every Saturday at Stratton Mountain's Main Base area.
Independence Day Celebration
July 6, 2013 at Magic Mountain
Magic will host Londonderry's annual Independence Day celebration on July 6th at the base of Magic Mountain. There will be a cook-out and live music starting at 6pm with fireworks blazing by 9 p.m.
Tri For Hope
July 13, 2013 at Mount Snow Resort
Mount Snow has partnered with The American Cancer Society and The Windham County Relay for Life to make the Tri For Hope a fundraising event with all proceeds going towards the fight against cancer. Tri for Hope is a sprint distance triathlon great for beginners and is a USA Triathlon sanctioned event. The top individual fundraiser will receive a 2013/2014 Mount Snow season pass.
Jeffersonville Festival of the Arts
August 10, 2013 at Smugglers' Notch Resort
This summer festival is a highlight for area visitors, with dozens of regional artists displaying their work along Jeffersonville's charming Main Street. Music by the Green Mountain Swing Band and jazz band Eight 02, children's activities, and food. Parking available at Cambridge Elementary School. Free. 10 a.m. - 4 p.m.
Tough Mudder New England
August 10 and 11, 2013 at Mount Snow Resort
Probably the toughest event on the planet, Tough Mudder returns to Mount Snow. This is a hardcore 10-12 mile obstacle courses designed by British Special Forces to test your all around strength, stamina, mental grit, and camaraderie. The course at Mount Snow is regarded as one of the most challenging on the Tough Mudder schedule, also making it one of the most popular.
Okemo's Hops in the Hills Brew Festival & Chicken Wing Championship
August 24, 2013 at Okemo Mountain Resort
Okemo Mountain Resort hosts a beer festival from 1 to 6 p.m. in the field approaching the Jackson Gore Inn. Sample a variety of beers from local and regional brewers. Enjoy live music while local restaurants vie for the title of Okemo Valley Chicken Wing Champion. Call (802) 228-1600.
The Full Palette
August 30 - September 1, 2013 at Stratton Mountain Resort
A celebration of the tastes and techniques of Vermont farm-to-table with workshops, demonstrations, author events, grand tasting tent, field trips, food trucks, wine tasting and a gala farm-to-table feast on Sunday night.
Second Annual Jay Peak Trail Running Festival
August 31- September 1, 2013 at Jay Peak
This festival is a series of trail races for all abilities (ages 4-109) over Labor Day Weekend. There are three 5Ks on Saturday: run one, two or three races rated in difficulty like your ski slopes (green circle, blue square, black diamond). You may enter all three for our "Trail Runners with Issues" award too. There is a 25K and a 50K ultra trail race on Sunday. This race series allows the beginner to the trail running nut multiple levels to compete.