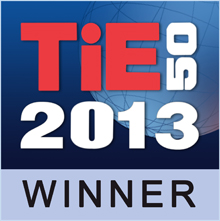 San Francisco, CA (PRWEB) May 22, 2013
Work4 has announced today that it has been named Winner of 2013 TiE50 "Top Startup" Award at TiEcon 2013, the world's largest conference for entrepreneurs. Work4 was amongst 50 winners honored on Saturday, May 18 at the Santa Clara Convention Center.
Work4 was founded in 2010 by CEO Stéphane Le Viet and Director of Product Matt Brown in order to help recruiting professionals take advantage of social media to source and hire better. Work4 saw the gap between current recruiting practices and the way users and candidates prefer to interact with companies online. Using Facebook as a tool for candidate engagement, employer branding, and sourcing through ads and social referrals, Work4 opens the door to a potential talent pool of over 1 billion people on the world's largest, most engaged social network.
"We are so pleased to be counted among the world's 50 hottest startups," said Le Viet. "We have worked hard to pave the way to innovation in social recruiting and HR technology, and we are proud to be recognized for building a company that is as forward-thinking and noteworthy as our product."
Speaking to a global audience at the awards ceremony during TiEcon 2013, the conference Chairman and President of TiE Silicon Valley, Mr. Venkatesh Shukla said that "the TiE50 program screened 1142 companies from 24 countries and 50 best-of-breed companies were announced winners."
"Over the past four years, the TiE50 program gained global acclaim attracting startups from all over the world. TiE50 as a brand has gained much recognition amongst the VC and Angel communities – particularly in the Silicon Valley. About 110 finalists and winners had successful exits," said Program Chair Ram K. Reddy.