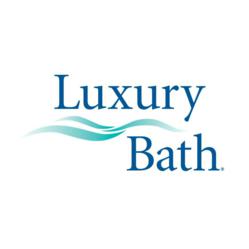 "Our exclusive partnership with Microban is yet another reason why our bath products are the most sought after in the bathroom remodeling industry."
Glendale Heights, Illinois (PRWEB) May 22, 2013
Continuing its efforts to deliver only the best in bathroom remodeling products, Luxury Bath exclusively partners with global leader Microban® International, Ltd. Microban technology is infused into all Luxury Bath's bath products and shower accessories, making cleaning the bathroom a breeze. Microban is an antimicrobial agent incorporated into Luxury Bath's bathroom remodeling products during the manufacturing process, permanently becoming part of the bath product material. Microban works in Luxury Bath's bath products by inhibiting the growth of microbes such as bacteria, mold and mildew.
For over ten years Luxury Bath has been Microban's exclusive North American acrylic bathroom remodeling partner. The Microban brand is featured in over 1000 consumer goods spanning over 30 countries. In addition to Luxury Bath's bathroom remodeling products, Microban's industry leading partners include Reebok, Oreck, Conair, Sharp, Oakley and Rubbermaid. Microban's antimicrobial protection is a compelling benefit that provides Luxury Bath remodeling products with a unique and powerful point of differentiation in the marketplace.
"Our exclusive partnership with Microban is yet another reason why our bath products are the most sought after in the bathroom remodeling industry," said Michael Krawitz, CEO of Luxury Bath. "We're proud to make cleaning the bathroom easier to our customers who are in need of an affordable bath remodel."
With its status as the global leader in built-in antimicrobial protection, the Microban brand is a valuable label in bathroom remodeling. Together Luxury Bath and Microban continue to offer consumers low maintenance bath products that keeps the surfaces cleaner while providing protection against dangerous microbes.
About Luxury Bath
Luxury Bath (http://www.luxurybath.com) has been providing one-day bathroom remodeling updates and ideas since 1991. Supplying over 900 different bathroom remodeling companies across North America, Luxury Bath offers customers new bathroom ideas and provides high quality affordable bath remodeling products.
About Microban
Microban (http://www.microban.com) the leader in built-in antimicrobial protection has partnered with over 250 leading manufactures across the globe. Founded in 1994, Micbroban International, Ltd. provides antimicrobial protection to over 1000 products, keeping them cleaner and fresher for longer.
###