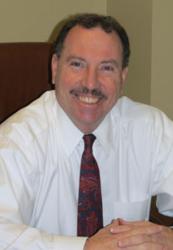 I appreciate the opportunity to serve my clients. I am proud to be recognized by both Pennsylvania Super Lawyers and Avvo
Pittsburgh, PA (PRWEB) May 22, 2013
Harrisburg auto accident attorney James R. Moyles of The Moyles Law Firm has been named by Super Lawyers magazine as one of the top attorneys in Pennsylvania every year since 2007. Only five percent of the lawyers in the state are named by Super Lawyers. In addition, Mr. Moyles recently achieved a prestigious Excellent Rating by Avvo.com
Jim founded The Moyles Law Firm in Pittsburgh in 1999. The law firm now includes a second office in Harrisburg and focuses exclusively on personal injury settlements and litigation. With more than 30 years of legal experience, Jim Moyles has the extensive personal injury knowledge and polished litigation skills to obtain maximum compensation for his clients. During his notable career, Jim has obtained for several clients settlements of more than $1 million.
"I appreciate the opportunity to serve my clients. I always try to do my best. I am proud to be recognized by both Pennsylvania Super Lawyers and Avvo. I am very appreciative that the efforts which I put forth on behalf of my clients is recognized statewide," said Harrisburg auto accident and malpractice lawyer Jim Moyles.
The selections for this esteemed list are made by the research team at Super Lawyers, which is a service of the Thomson Reuters, Legal division based in Eagan, MN. Each year, the research team at Super Lawyers undertakes a rigorous multi-phase selection process that includes a statewide survey of lawyers, independent evaluation of candidates by the attorney-led research staff, a peer review of candidates by practice area, and a good-standing and disciplinary check.
Thomson Reuters, Legal publishes Super Lawyers magazines across the country. In addition to the magazines, Thomson Reuters, Legal publishes newspaper inserts and magazine special sections devoted to Super Lawyers. In 2010, Super Lawyers reached more than 15 million readers.
Super Lawyers was first published in 1991 by Law & Politics and was acquired by Thomson Reuters, Legal in February 2010. Thomson Reuters is the world's leading source of intelligent information for businesses and professionals. Super Lawyers can be found online at superlawyers.com where lawyers can be searched by practice area and location.
Avvo.com is an online directory of legal professionals. An Avvo rating is calculated using a non-biased mathematical model that considers elements such as years of experience, board certification, education, disciplinary history, professional achievement and industry recognition -all factors that are relevant to assessing a lawyer's qualifications. The site developed its Avvo Rating, as well as our client and peer rating systems with input from hundreds of lawyers, consumers and industry advisors.
About The Moyles Law Firm
The Moyles Law Firm was established to help individuals and their families recover from the devastation of negligent-based injuries. With offices in Pittsburgh and Harrisburg, we exclusively represent injured clients and their families in claims involving:

Personal injury litigation
Medical malpractice
Motor vehicle accidents
Nursing home negligence
Products and premises liability
The firm recently expanded its practice in December 2012 by opening a new office in Harrisburg. As an auto accident lawyer in Harrisburg, Mr. Moyles hopes the new office gives him a greater opportunity to serve clients throughout Pennsylvania.
For more information, visit the firm online or call them at 412-308-5775 or at 888-400-1055.