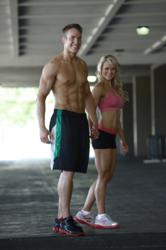 From years of conditioning high school athletes and training adults, Justin and Jessica have honed routines scaled both for abilities and goals.
(PRWEB) May 23, 2013
Summer is upon us and everyone wants to feel and look fit. However, what is one to do when they are deluged with a busy work schedule and life commitments? RundleFit's new website: Workout Anywhere, solves this dilemma and provides effective, all-ability level home workouts in as little as 15 minutes (no equipment required). Studies have shown that in the competitive employment market, the appearance of health and wellness adds dollars to one's salary and benefits to overall reimbursement packages. But, appearance must be supported by real action, and most of us are tired at then end of busy days. RundleFit's elite level of positive motivation, coaching, and implementation of quick and effective anywhere workouts is the healthy lifestyle formula that has busy, tired people staying on track with their fitness goals and creating the lifestyle of their dreams.
Justin and Jessica Rundle (team RundleFit), fitness models, personal trainers, and CrossFit competitors, jumpstart healthy lifestyles with 15 to 30 minute home workouts and routines designed to get you moving with the least inconvenience. You choose the intensity of your workout in the comfort of your home from easily accessible online formats that focus on core exercises all the way to total body fitness programs.
From years of conditioning high school athletes and training adults, Justin and Jessica have honed routines scaled both for abilities and goals. From $9.95 per month, Workout Anywhere puts members through regimens available on mobile technology whenever you can plug the exercise into your lifestyle. Justin and Jessica host video presentations, changed weekly, along with meal plans, recipes, challenges, articles, moral support, and questions and answers. Workout Anywhere's team RundleFit knows that home workouts are just a piece of the healthy lifestyles puzzle. Their well-rounded fitness community addresses every dynamic necessary for making healthy a lifestyle.
Justin and Jessica are both accomplished athletes beginning in high school through college football, Tae-kwon-do, competitive fitness modeling, marathons, and participation on a CrossFit regional team. Both know the difficulty of maintaining overall fitness despite society's deluge of temptations—one of the most difficult being food. Our nation and many parts of the world have the most extensive food delivery system in human history. Maintaining optimum weight has become a public health issue for our generations.
Being able to jumpstart healthy lifestyles comes from being no stranger to yo-yo weight gain and loss along the course of demanding fitness regimens. It has been difficult to confront diet realities and "just say no" to temptations like cake, cookies, and ice cream. Justin and Jessica personally understand that healthy lifestyles begin in the kitchen. Consequently, they are ideally suited to counsel members to achieve "personal bests."
For lack of a better word, something magical happens when an individual achieves sustainable fitness goals and alters his or her lifestyle to maintain that plateau. Everything becomes more promising and upbeat despite the tough times everyone endures. A healthy lifestyle becomes the capstone to an improved outlook in every faced of one's life.