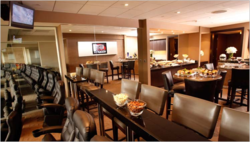 Ultimate Sports Adventures got us a 50 yard line Luxury Suite. What a Great View... Thanks (Jimmy - Alabama)
San Diego, CA (PRWEB) May 22, 2013
Ultimate Sports Adventures, a leading provider of high-end ticket packages to major sporting events, has limited availability of private luxury suites / skyboxes for the August 31st kickoff game between LSU and TCU at Cowboys Stadium.
Suites come in various sizes in different arenas. Generally the suites offer unobstructed viewing of the action with plush theatre style seats, multiple flat screen TVs, a social area, and offer premium food & beverages within the suite.
LSU vs. TCU Luxury Suites are starting about $15,500 and going on up depending on location, # of tickets and add-ons.
The Cowboys Classic started in 2009 in the new Cowboys Stadium with BYU defeating Oklahoma 14-13. In 2010, TCU defeated Oregon State 30-21. In 2011, LSU defeated Oregon 40-27 and last year, Alabama 41-14 before an announced crowd of 90,413, the largest crowd so far. Alabama went on to win the National Championship in Miami by defeating Notre Dame. In 2014, Florida State will take on Oklahoma State and in 2015, it will be Alabama against the Badgers of Wisconsin.
Ultimate Sports Adventures is considered an industry leader in providing VIP Experiences at Major Sporting Events including the BCS National Championship, the Super Bowl, the Masters Golf Tournament, World Series and MLB All Star Game along with the Ryder Cup, U.S. Open Golf and Tennis, Wimbledon, Indy 500 and many more top events.
To reserve a Luxury Suite / Skybox or a Ticket Package, call Ultimate Sports Adventures toll free at 1-877-225-2155 or 619-270-2276.
There is no sold-out game! Ultimate Sports Adventures has your tickets.
About Ultimate Sports Adventures Inc.
Founded in 2006, Ultimate Sports Adventures was started by Bruce Johnson, whose vision of offering an expanded menu of event tickets and activity experiences, would offer something for everybody. Mr. Johnson has over 15 years experience in this field. Ultimate Sports Adventures has grown annually. The company is always looking for new events and activities to offer to its clientele.