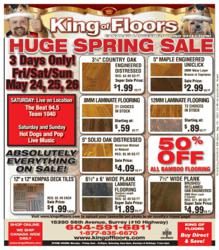 King of Floors has the biggest selection of laminate, hardwood and solid engineered flooring anywhere in the Lower Mainland
Surrey, BC (PRWEB) May 22, 2013
The King of Floors, a discount flooring warehouse in Surrey, BC, is offering customers the opportunity for even greater savings for three days only. On May 24, 25 and 26 (Friday through Sunday), customers can enjoy unprecedented savings with 50% off all bamboo flooring and significant markdowns on everything in the store. It's King Of Floors new Huge Spring Sale.
Examples of savings available include: engineered hardwood flooring in distressed oak, marked down to only $1.99 from $4.99 a square foot, and 7 ½ inch-wide plank brushed/reclaimed engineered oak reduced to $4.99 from $11.49 a square foot.
In addition to the huge savings this coming weekend, there will also be live music and hot dogs on both Saturday and Sunday. What's more, The Beat 94.5 and Team 1040 will be live on location on Saturday May 25.
The King of Floors has the largest selection of laminate, hardwood and solid engineered flooring anywhere in the Lower Mainland; the wide choice and competitive pricing make King of Floors well worth the drive. A 'direct-buy' flooring company with a mega warehouse of flooring products, King of Floors also supplies flooring to destinations across Canada via orders on its shopping-cart enabled website. Its goal is to provide customers with high-value, low-cost flooring through buying direct; enabling customers to enjoy significant savings.
King of Floors' flooring products can be installed over concrete or plywood and customers can choose between distressed or smooth finishes, in a wide range of widths and colors.
For more information or to order your new hardwood floor today, please visit the King Of Floors website or call direct at 604-591-6811.