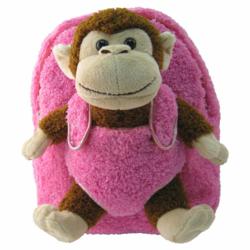 We've experienced a huge demand for children's luggage and the Kreative Kids collection has become a very popular choice for our customers
Somerset, NJ (PRWEB) May 22, 2013
LuggagePoint.com, the premier online retailer of luggage, handbags, backpacks, business cases, travel accessories and travel products, recently announced the launch of Kreative Kids, an exclusive and unique line of children's rolling luggage and backpacks. With so many colorful and furry faces adorning this luggage collection, choosing a fuzzy and favorite character won't be easy.
LuggagePoint co-founder, Sumit Bhanote commented, "We've experienced a huge demand for children's luggage and the Kreative Kids collection has become a very popular choice for our customers. We offer a large selection of kids' rolling luggage and our customers are responding very well to this fabulous line of quality luggage for children."
LuggagePoint.com has become one of the most successful online luggage e-retailers offering a full line of products including many name brand and designer favorites plus free shipping on purchases of $75 or more. The company strives to provide customers with affordable travel products and certified luggage that is not only stylish but also durable. The Kreative Kids line is a perfect fit among LuggagePoint.com's bevy of products.
Since 1987, Kreative Kids, Inc. has been a leading manufacturer of unique children's gift items in the US market. Kreative Kids products meet strict safety policy standards and are in compliance with all applicable laws and regulations. Kreative Kids luggage products and accessories are completely free of any dangerous lead or toxins and they are 100% safe for children.
Visit LuggagePoint.com to view their large assortment of Kreative Kids rolling luggage and backpacks designed exclusively for 2 – 6 year olds. This fun yet functional collection is sure to put a smile on the face of any child.
About LuggagePoint.com:
Founded in 1999, Luggage Point.com followed the genre of e-businesses and has grown to be considered as one of the number one online retailers of handbags and luggage accessories. By providing great quality products with fast, 24/7 customer services and reasonable prices, Luggage Point.com has been able to carve a niche for itself among the fierce competition in the market. To learn more about Luggage Point.com and their products, visit http://www.luggagepoint.com/.