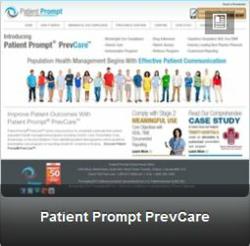 Our patient communication technology is redefining the way practices are able to communicate with their patients.
(PRWEB) May 22, 2013
Poor adherence to appropriate medication therapy has been shown to result in not only medical complications and death (some 125,000 deaths in the U.S. every year are attributed to drug non-adherence), but increased health-care costs. It's been estimated that between 33% and 69% of all medication-related hospital admissions are related to poor medication adherence — a reality that costs the American health-care system approximately $100 billion annually.
Indeed, so dire is the degree of medication non-adherence — and the consequences therefrom — that the World Health Organization has declared that more people worldwide would benefit from efforts to improve medication adherence than from the development of new medical treatments.
Among the principal causes most often cited for this scene are poor patient communication and education.
Patient Prompt®, the leader in bi-directional patient communication, seeks to address this with a newly developed method for helping providers to more effectively communicate medication-compliance reminders to patients.
This advanced patient communication technology integrates with existing EMR/PM patient databases to identify those patients who would benefit from such ongoing communication. This population is then earmarked for a reminder program that features a series of outreach efforts, including voice, e-mail and text messaging. The reminders can be highly customized to reflect the particular details of an individual patient's condition and medication requirements.
With Patient Prompt®'s technology, practitioners get an accurate, up-to-date picture of the levels of drug compliance among their patients, tracked in real time, so that they might identify non-compliance issues quickly and act upon potentially dangerous problems efficiently.
"Our patient communication technology is redefining the way practices are able to communicate with their patients," Patient Prompt® founder and president Jeremy Greven says.
Patient Prompt®'s drug adherence program is part of a comprehensive PrevCare™ solution developed by Patient Prompt® to assist practices in their population health management efforts by leveraging and enhancing the patient outreach capabilities of existing EMRs.
For more information regarding Patient Prompt®'s drug adherence program, visit http://www.patientprompt.com/prevcare.
About Patient Prompt®
Patient Prompt® is a subsidiary of Prompt Alert INC®. Since 2004, Patient Prompt® has provided innovative and effective patient communication solutions for the healthcare sector. Its patented technology is currently assisting thousands of high-volume practices, confirming millions of appointments each month on behalf of its subscribers, significantly reducing costs, increasing revenue and improving efficiencies in the practice environment. As the premier bi-directional patient engagement solution in healthcare, Patient Prompt® offers highly customized patient communication strategies to enhance existing EMR/PM scheduling systems.
For corporate inquires, contact:
Corporate Affairs
Prompt Alert INC® | Patient Prompt®
Phone: 1.800.417.9486 x 414
Fax: 1.866.390.1486
info(at)promptalert(dot)com
http://www.patientprompt.com