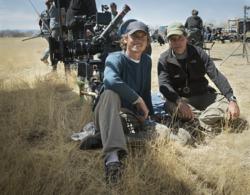 Santa Fe, NM (PRWEB) May 22, 2013
Taylor Hilburn ('13), a recent graduate at Santa Fe University of Art and Design (SFUAD), says he knows that his work with award-winning cinematographer Rodrigo Prieto probably makes him the envy of film students around the country. This past semester, through the Film School at SFUAD, Hilburn served as the assistant to the famous director of photography, who is shooting his latest film in New Mexico. The Homesman is a blockbuster western starring Tommy Lee Jones, Meryl Streep and Hilary Swank. Prieto is well-known for his work on such Academy Award–winning movies as Argo, Brokeback Mountain and Babel.
Hilburn started interning with Prieto during pre-production of the film, working on set every day in close proximity to the cinematographer.
"It's been a wonderful experience, and the pre-production work was especially great," said Hilburn. "Rodrigo has already taught me an immense amount, such as how to shoot outside, utilize the sun, and other techniques. We also occasionally have lunch in his office and just talk. You watch these guys work, and it's pretty amazing. They have the trade secrets—just being around that is a tremendous learning experience."
Hilburn's assignments have ranged from planning and documenting the photogenic breakdown—which involved detailing special equipment and lighting needs—to researching photographers, movies and related artists. He also produced a short test video that was ultimately presented to director Tommy Lee Jones, and he has regularly accompanied Prieto on technology scouts around New Mexico. The production has been traveling around the state, shooting in locations including Las Vegas and Espanola.
Hilburn hails from Floydada, a small town in Texas. He transferred to SFUAD after spending a year at a junior college in Lubbock. He said he hasn't regretted the decision.
"I love Santa Fe as a city," he said. "Coming here has been amazing, and has led me to this incredible internship. So many film students at USC or NYU would like to shake Rodrigo's hand, much less be his assistant. Having these types of internship opportunities, as well as the presence of Garson Studios on campus, is just a huge advantage for a student like me."
This internship isn't Hilburn's first experience with a professional production, however. Earlier in his studies, he landed an internship on the film Bless Me, Ultima (2010), through the Film School at SFUAD. He also worked with some of the same filmmakers on The Homesman.
"The faculty members of The Film School at SFUAD are strong advocates for generating internship opportunities for our students," said Paula Amanda, associate chair of the Film School and director of Garson Studios. "Connecting our students with industry professionals who expose them to real-life scenarios both in and out of the classroom is a core component of our teaching philosophy at the Film School. In today's ever-changing and competitive TV and film industry, it's critically important to distinguish yourself through internships and to establish yourself through networking opportunities. We strive to make this a reality for all of our students."
As for Hilburn, the aspiring cinematographer graduated this May.
"It's amazing to look back at where I started, growing up in a little town in Texas," he said. "It seemed like a grandiose fantasy to be able to work with someone of Rodrigo's caliber, but it's a reality here at SFUAD."
About The Film School at SFUAD:
The Film School at Santa Fe University of Art and Design offers a comprehensive, hands-on, four-year curriculum that integrates film, video and digital production with critical studies and writing. Films such as True Grit and Cowboys & Aliens and TV dramas such as Longmire have been shot at the university's Garson Studios, where students have the opportunity to intern on professional productions. Garson Studios is part of the Garson Communications Center, which features a 65,000-square-foot production and postproduction facility. The Screen, a popular destination within the Garson Communications Center, shows some of the greatest works of world cinema daily for students and the public.
About Santa Fe University of Art and Design:
Santa Fe University of Art and Design is an accredited institution located in Santa Fe, New Mexico, one of the world's leading centers for art and design. The university offers degrees in arts management, contemporary music, creative writing, digital arts, graphic design, film, performing arts, photography and studio art. Faculty members are practicing artists who teach students in small groups, following a unique interdisciplinary curriculum that combines hands-on experience with core theory and prepares graduates to become well-rounded, creative, problem-solving professionals. As a Laureate International Universities Center of Excellence in Art, Architecture and Design, the university boasts an international student body and opportunities to study abroad, encouraging students to develop a global perspective on the arts. Santa Fe University of Art and Design is accredited by The Higher Learning Commission and a member of the North Central Association, http://www.ncahlc.org.
# # #