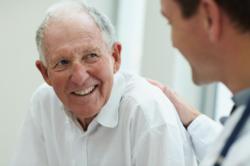 MedActive provides solutions that offer relief for complex oral ailments...
Spring Hill, FL (PRWEB) May 22, 2013
May is Cancer Awareness Month and as a leading provider of oral care and relief products, MedActive is emphasizing its support of cancer patients and survivors. MedActive is committed to providing oral care solutions to cancer patients around the globe.
In support of Cancer Awareness Month, MedActive co-sponsored the third annual Relay for Life Trinity Golf Tournament, held on May 20th in Tarpon Springs, FL to help encourage awareness, research and provide relief for those suffering from cancer and the treatment symptoms.
According to the American Dental Association, an estimated 400,000 of the 1.2 million Americans diagnosed with cancer each year may develop painful and debilitating oral complications from their cancer treatment—and persons who undergo cancer treatment are sometimes unaware that oral health is a critical step in maintaining their overall health.
Cancer and cancer treatments can cause serious oral health issues and chronic discomfort.
To help make cancer treatment most effective for patients with oral complications, MedActive provides solutions that offer relief for complex oral ailments they may experience throughout treatment including dry mouth, thrush, sores, lesions, sensitivity, mucositis, altered taste, inflammation and bleeding gums.
The MedActive® Oral Relief CONTINUUM™ includes lozenges, sprays, gels and rinses which deliver a patented proprietary formulation of ULTRAMULSION®, a long-lasting tissue conditioner, and Spilanthes Extract, a natural saliva enhancer. All MedActive® Brands provide "patient-friendly"™ hedonics (premium taste and mouth feel) which support patient self-care which is necessary to achieve "around-the-clock" relief for discomfort from dry mouth, oral sores and lesions, inflammation, thrush, loss of taste or altered taste and tooth sensitivity.
To most effectively fight cancer, health care teams should include an oral care professional responsible for initiating an oral care treatment protocol.
MedActive® Brands are exclusively available at select independent pharmacies in Virginia, West Virginia, Maryland, Delaware, New Jersey, Pennsylvania, Connecticut, New York, Ohio, Texas and California. For more information on MedActive Brands®, visit http://www.medactive.com, call toll-free 866-887-4867 or contact Director of Health Care Promotions, Sofia Santayana at 1-866-887-486 or sofias(at)medactive(dot)com.
About MedActive Oral Pharmaceuticals, LLC:
MedActive® specializes in high compliance OTC oral care and relief brands, which provide continuous relief from discomfort associated with dry mouth, thrush, inflammation, dentin sensitivity, sores and lesions, most often caused by medications and chronic illness. MedActive's patented formulations combine safe and effective saliva enhancement, mucosal hydration and substantivity, which easily integrate into patient-centered care pathways and support ongoing patient adherence.