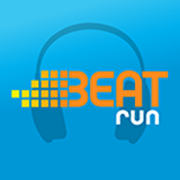 BeatRun- Just sync it!
Montreal,Quebec (PRWEB) May 23, 2013
Kilo-Beat™ is pleased to announce the launch of BeatRUN™, an iPhone app that synchronizes the rhythm of any chosen song from an iTunes library while running, walking, or on a treadmill. BeatRUN™ is also the fitness instructor's new favorite tool. Used as a BPM remote, the app allows instructors to play with song tempo in order to get the music perfectly in sync to match their fitness course. Featuring a fresh and user-friendly design, the new application enables users to move to the perfect beat and ensures their music will adjust to their speed.
BeatRUN™ features:

No setup required; automatically sync your music to your cadence
Allows the user to change music BPM in real-time
Track your progress by viewing your time, distance, and pace
Personalize the app by choosing your interface color
Detect your stride rate (cadence) while in your pocket, hand, or armband
BeatRUN™ is now available on the Apple App Store. It is compatible with iPhone 5, iPhone 4S, and iPhone 4.
https://itunes.apple.com/ca/app/beatrun-just-sync-it/id584688831?mt=8
"An app needs to be both innovative and interactive," states Sophie Chabot, President & Co-Founder of Kilo-Beat™ "We came up with an app that ensures you always run with a suitable music tempo so you can increase your fitness level and get the best out of your workout," states Olivier Lalonde, Co-Founder & General Manager at Kilo-Beat™.
The iPhone app, which is now available at Apple's online app store, is the first stop in Kilo-Beat' mobile application roadmap. Following the launch of BeatRUN™, the company will reveal its second app, a unique interactive music game for jogging as well as an incredible interactive device transforming stationary bikes into music instruments. The company is poised for growth and looks forward to a huge wave of interactivity.
About Kilo-Beat™
Established in 2011, Kilo-Beat™ is an innovative new technology company that combines the passion of sports, music, and interactive experiences. The multidisciplinary team is comprised of accomplished industry professionals with deep sector knowledge who are dedicated to offer unique solutions. Kilo-Beat' vision is to not only get people excited about health but to transform, renew, and enhance their traditional fitness experience by pushing the technology envelope.
For all the latest news, please visit the website at http://www.beatrun.com, follow on Facebook https://www.facebook.com/kilobeat , or follow @KiloBeat_ on Twitter.